Snapmaker 2019 review and plans for 2020
2019 was a super busy but meaningful year for the whole Snapmaker team. We opened two new stores in Canada and China respectively, released two upgrades for the Snapmaker Original, launched the Snapmaker 2.0 Kickstarter campaign and broke a few Kickstarter records. It is no exaggeration to say that 2019 was a milestone for our company. After the Chinese New Year holiday, we are rested and it's a good time to reflect on 2019 and plan for 2020.
Doubled Sales and Production Volume
We are amazed by the numbers we achieved in 2019: the team has grown from 26 to 50 members excluding production workers; the Snapmaker 2.0 Kickstarter campaign was supported by 7388 backers and became the most funded 3D Printer and Technology project in Kickstarter history, raising 7,850,866 USD in total. In the meantime, Snapmaker Original sales didn't decrease but doubled; more than 30% of the Snapmaker Original users purchased the 1600mW Laser Cutting Module and the Enclosure V1.1. After focusing on developing reseller networks in North America, Europe, Southeast Asia, the Middle East, China and Australia, we've partnered with 120 resellers in more than 40 countries such as Micro Center in the U.S. and Jaycar Electronics in Australia.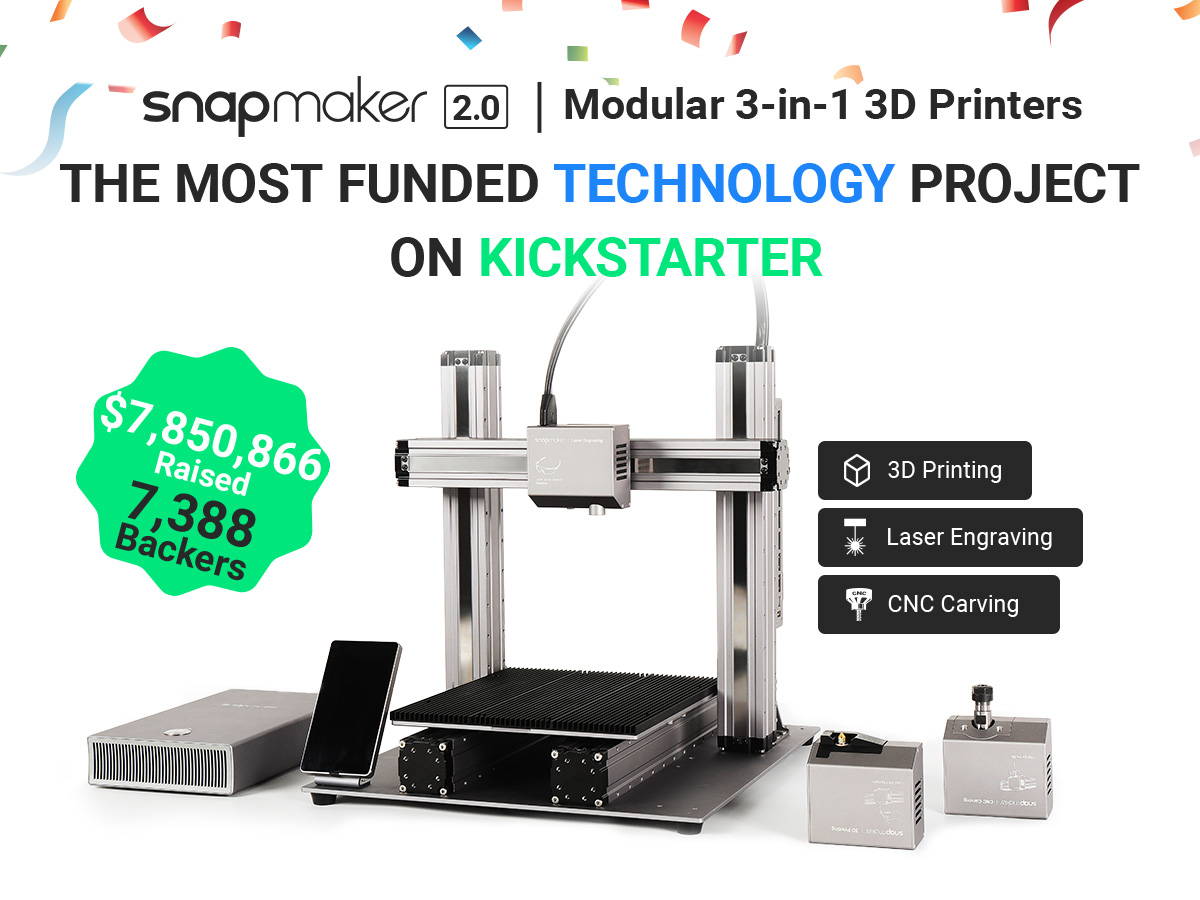 In addition to the increase in sales, we also improved our deliverability. Our production organization has gone a long way. We can now predict more precisely about production three months in advance and adjust supply based on demand a month prior. We are gradually getting rid of the problem where we run out of stock of the Snapmaker Original; Even though we have had delays in the Snapmaker 2.0 production, that was mainly due to the much more complicated production processes and the more-than-doubled workload. Just for reference, a Snapmaker Original consists of over a hundred different parts that were produced and tested. Can you imagine how many parts are there with four production lines running? (Hint: close to 800) Thanks to the increased size of the supply chain department, the production organization has been improved and more production steps are controlled effectively.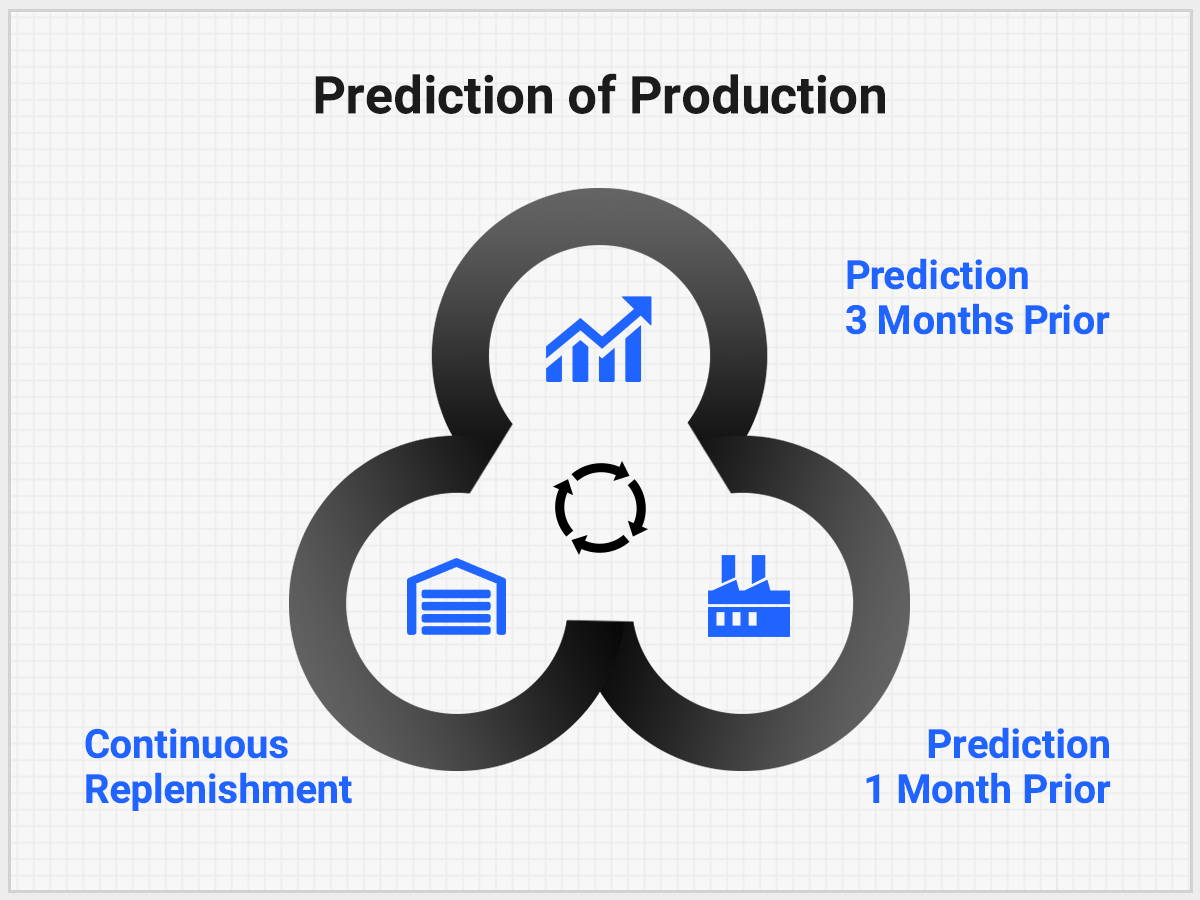 Quality assurance also plays a huge role in determining the final delivery schedule and ensuring the machine quality. If the defect rate of the incoming supply is high, the supply we can use is scarce, thus lowering the production capacity. This is usually the fundamental reason why the first batch of any products is delayed. On the other hand, quality assurance guarantees the high standards we set on our machines. If we run into issues and have them resolved during the quality assurance phase, our users will have fewer chances of running into machine quality problems. Based on that philosophy, we added more manpower to the sites of our suppliers for quality inspection. The number of suppliers inspected increased from 3 to 12. By increasing the numbers of regulation documents and quality control technicians and providing more gauging equipment, the pass rate of incoming supply has raised from 85.60% in 2018 to 93.13% last year.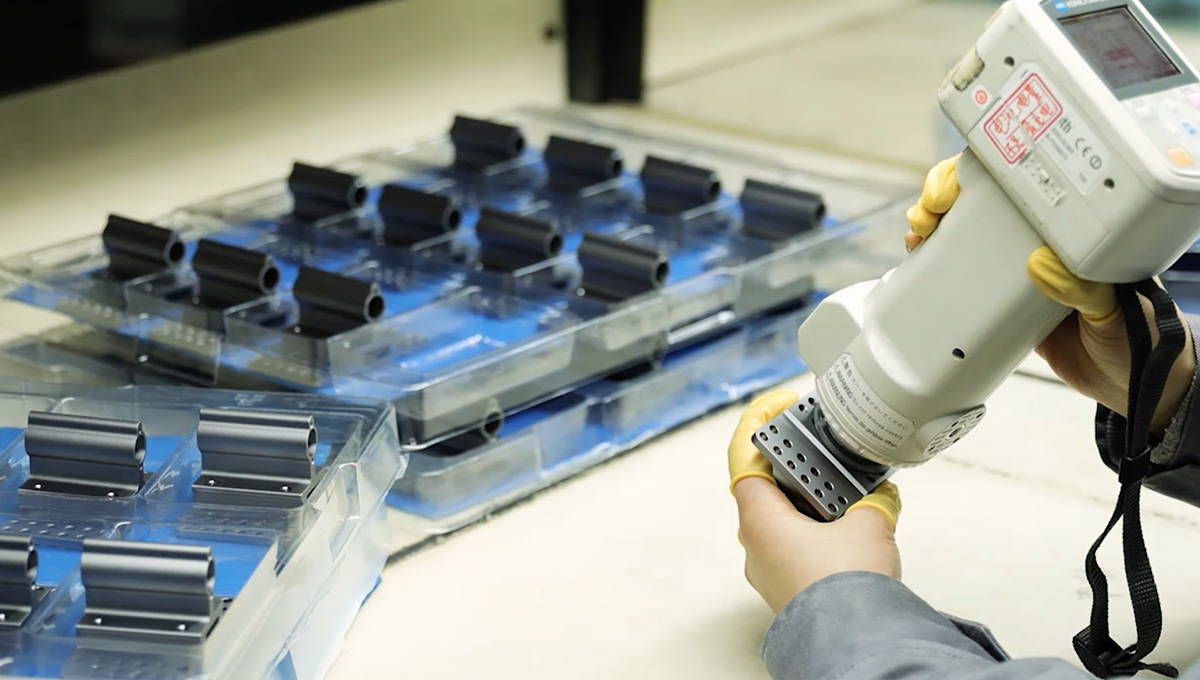 Way Better Product Support
The Snapmaker Original transitioned from pre-orders to online orders at the end of 2018, but we didn't become stingy with time on the development and the support for the Snapmaker Original. We not only released addons that could showcase the expandability of the Snapmaker Original, but we also provided better software features and more guides on Knowledge Base.
Thanks to the user feedback, we've made the new enclosure much easier to assemble. At the same time, we added a Door Detection feature. In USB mode, the machine will stop laser engraving/cutting if one of the side panels is opened and resume operation when both are closed. This feature ensures the safety of users. We released the enclosure upgrade kit specifically for the users who had bought the enclosure V1.0. The upgrade kit is easy to assemble and provides an extra layer of protection for our users.
We conducted a survey back in October 2018 to learn about the needs of our users. From the survey, more than 60% of the participants wanted a longer linear module or a bigger machine. We designed and released the Z-axis extension module for Snapmaker Original per your requests. The extension module allows the Snapmaker Original to print 76% more volume than before!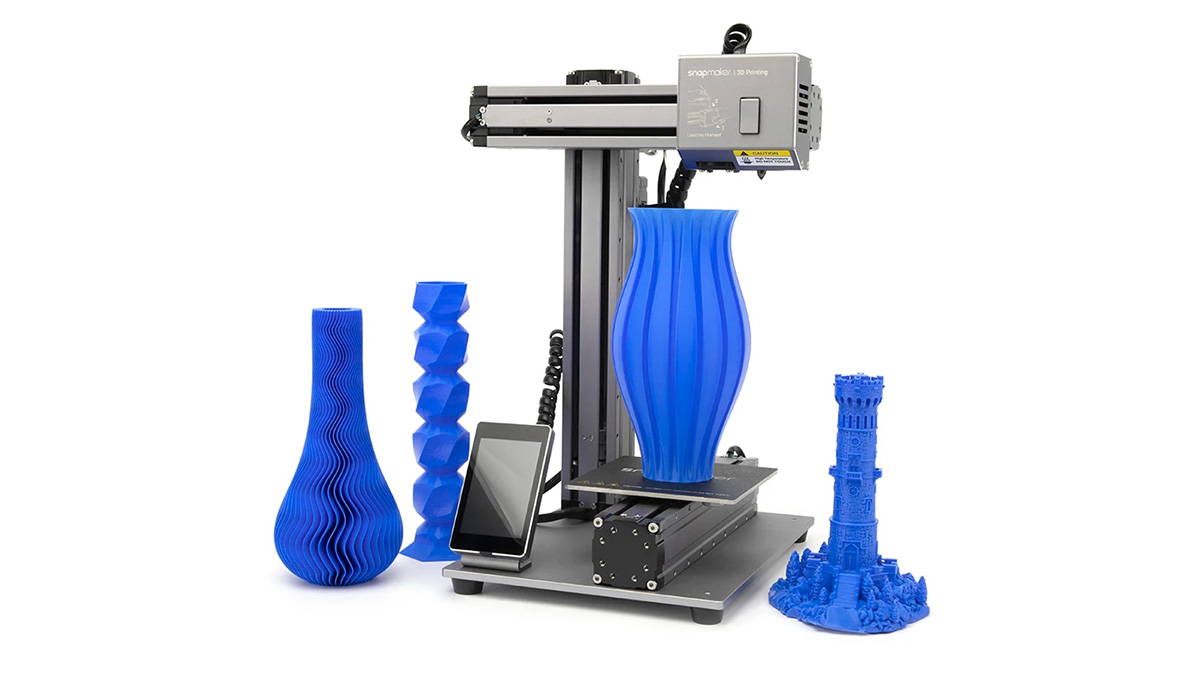 Next up on our roadmap was the software. We added more features to the Snapmakerjs, including the ability to 3D print/laser engrave/cut multiple model files simultaneously, Camera Capture (it was called Camera Aid Background), and faster laser engraving capability. This pushes the machine efficiency to the next level. 3D printing/laser engraving/cutting multiple model files simultaneously saves you time when 3D printing/laser engraving/cutting multiple small objects. The Camera Capture feature allows you to engrave the exact shape you want with your smartphone in the designated area. The new greyscale mode improves the engraving speed by three to four-folds.
We know that product support is inextricably tied to customer service. Our support team grew in size in 2019 as well. The average email response time decreased from 64 to 19 hours. We also released FAQ documents and support videos with useful tips and tricks for frequently asked questions.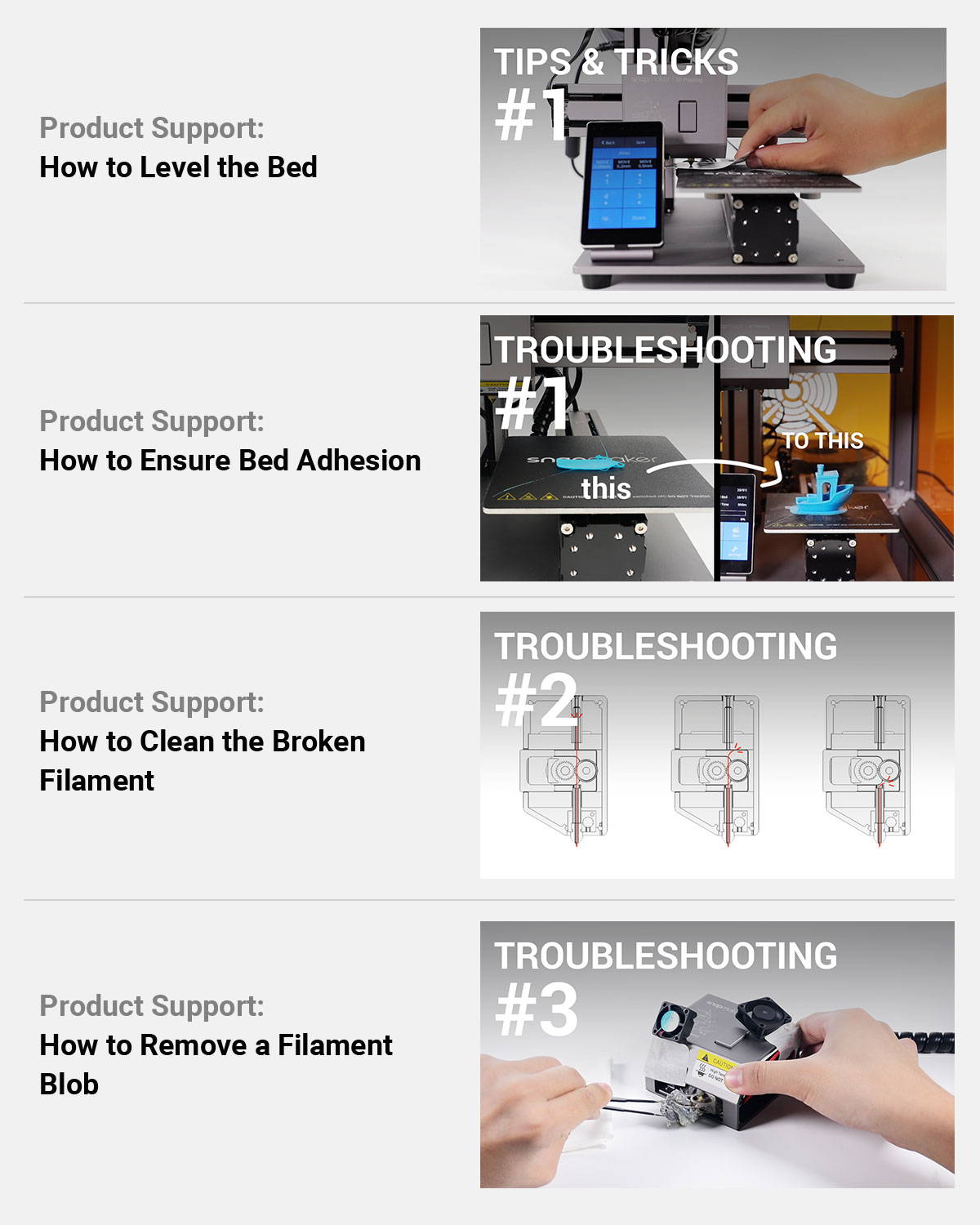 In order to improve the user experience, our design and operations teams worked hard on redesigning the product packaging and user manual for the Snapmaker 2.0. As a result, we implemented a packaging design that is more environmentally friendly. For one we decreased the use of expanded polyethylene. Secondly, all machine parts in the package are placed in the order we decided after rounds of brainstorming for more intuitive user experience. A color user manual full of high-resolution pictures and clear instructions help our users learn the basics of their devices without the need to search online. Some early bird users even complimented that the unboxing experience was similar to that of an Apple product.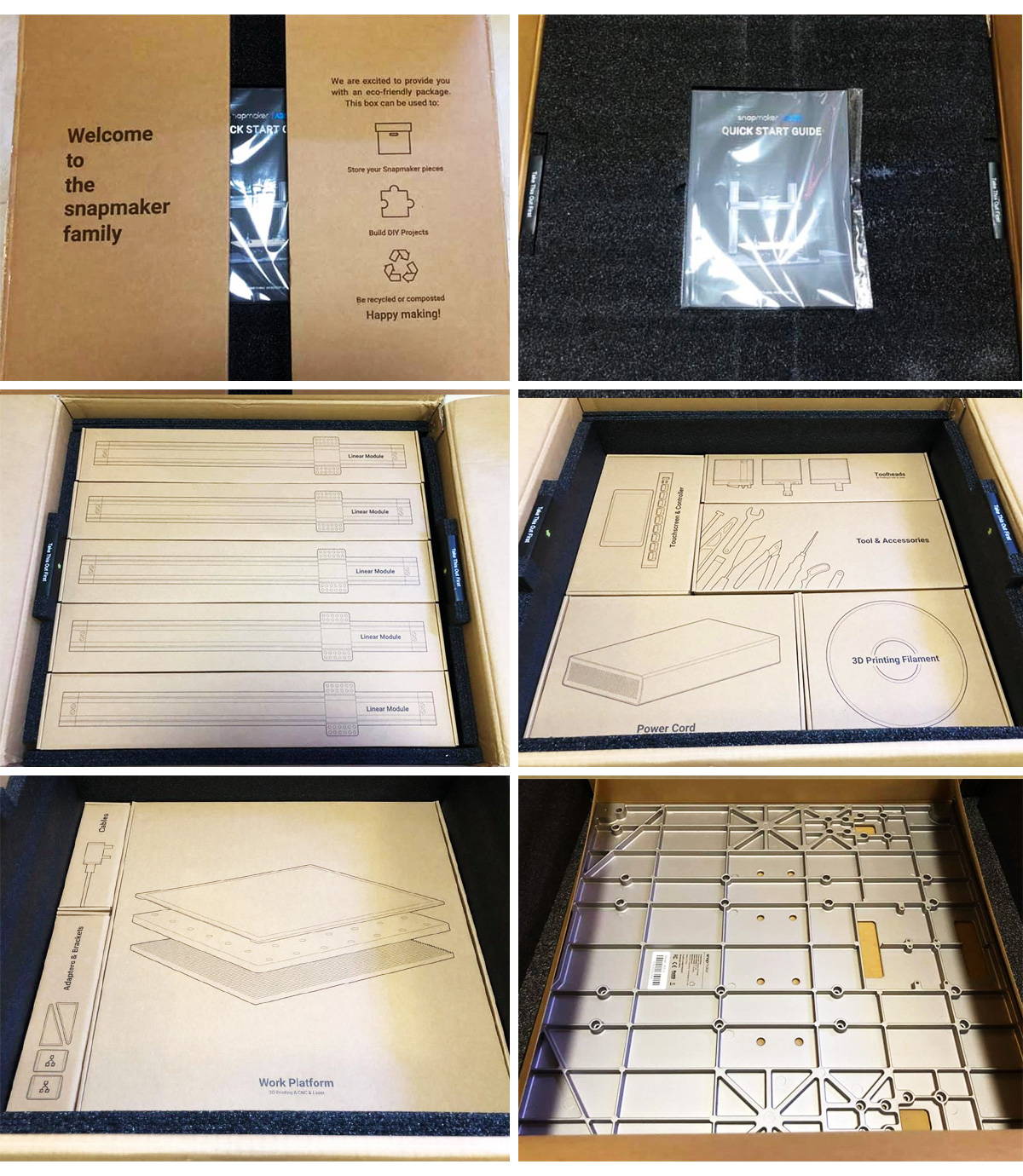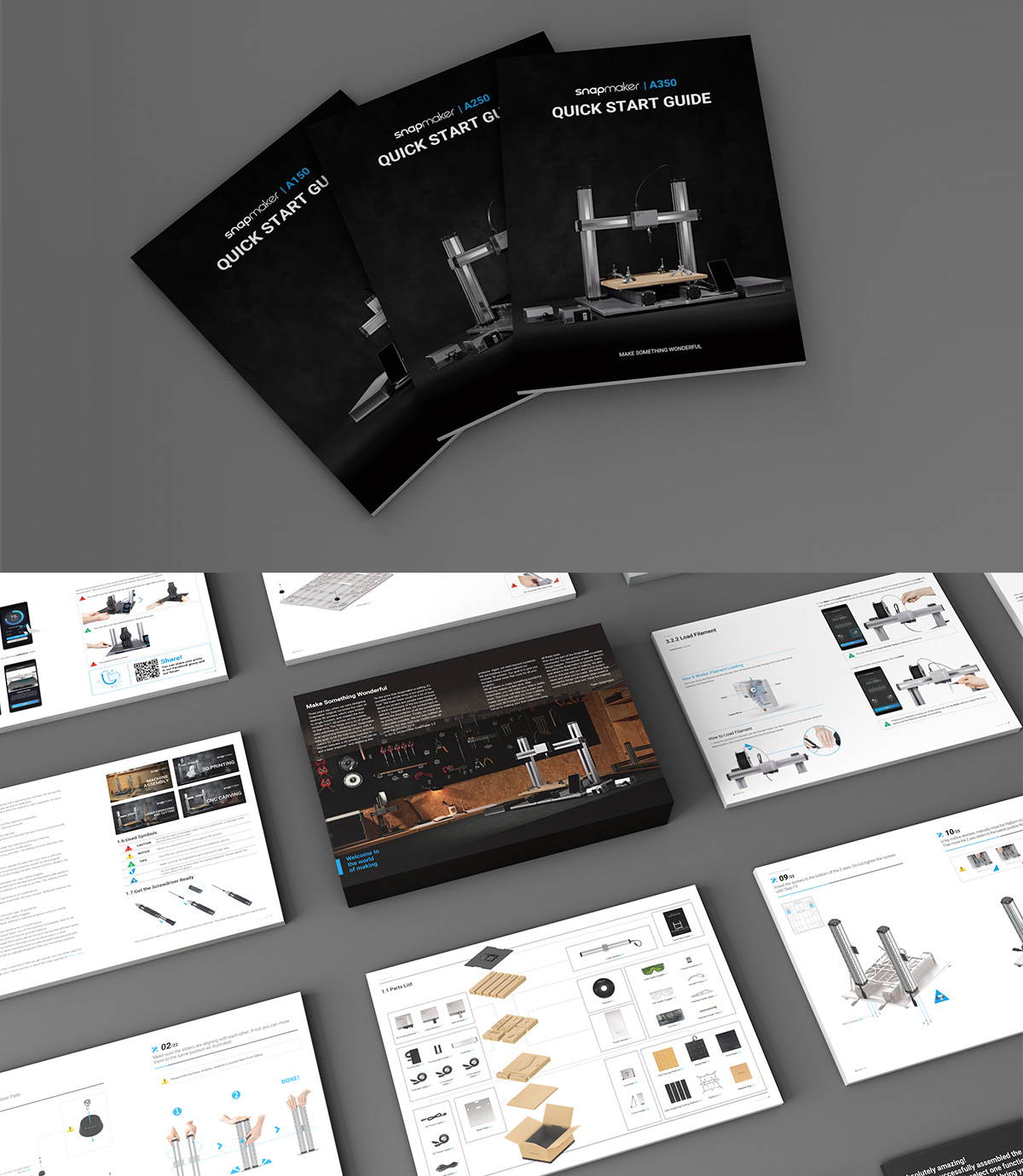 The EDU Guidebooks were compiled based on the market needs. We are aiming to provide support to education institutions; We have done our fist runs in 5 countries and plan to invest in more regions for educational purposes. We are looking to contribute more to the maker classroom.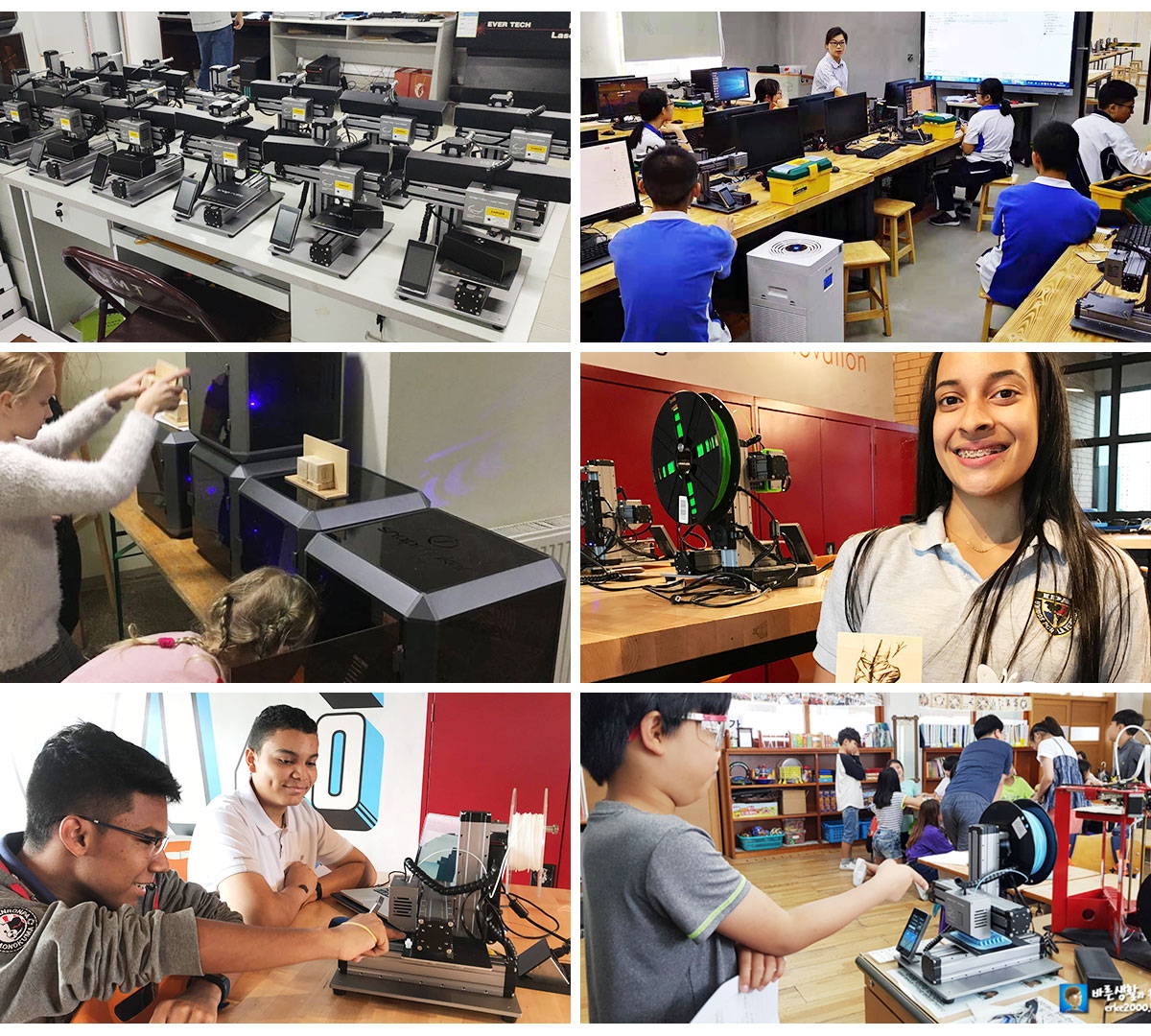 A Loving and Supportive Community
Our social media platforms received more followers with the launch of Snapmaker 2.0 Kickstarter Campaign. The number of Facebook group members increased from 5k to whopping 22.5k. Every day there are users helping fellow creators with questions using the machine. We also held 4 online makerathons last year. Some of the prize-winning works are shown below.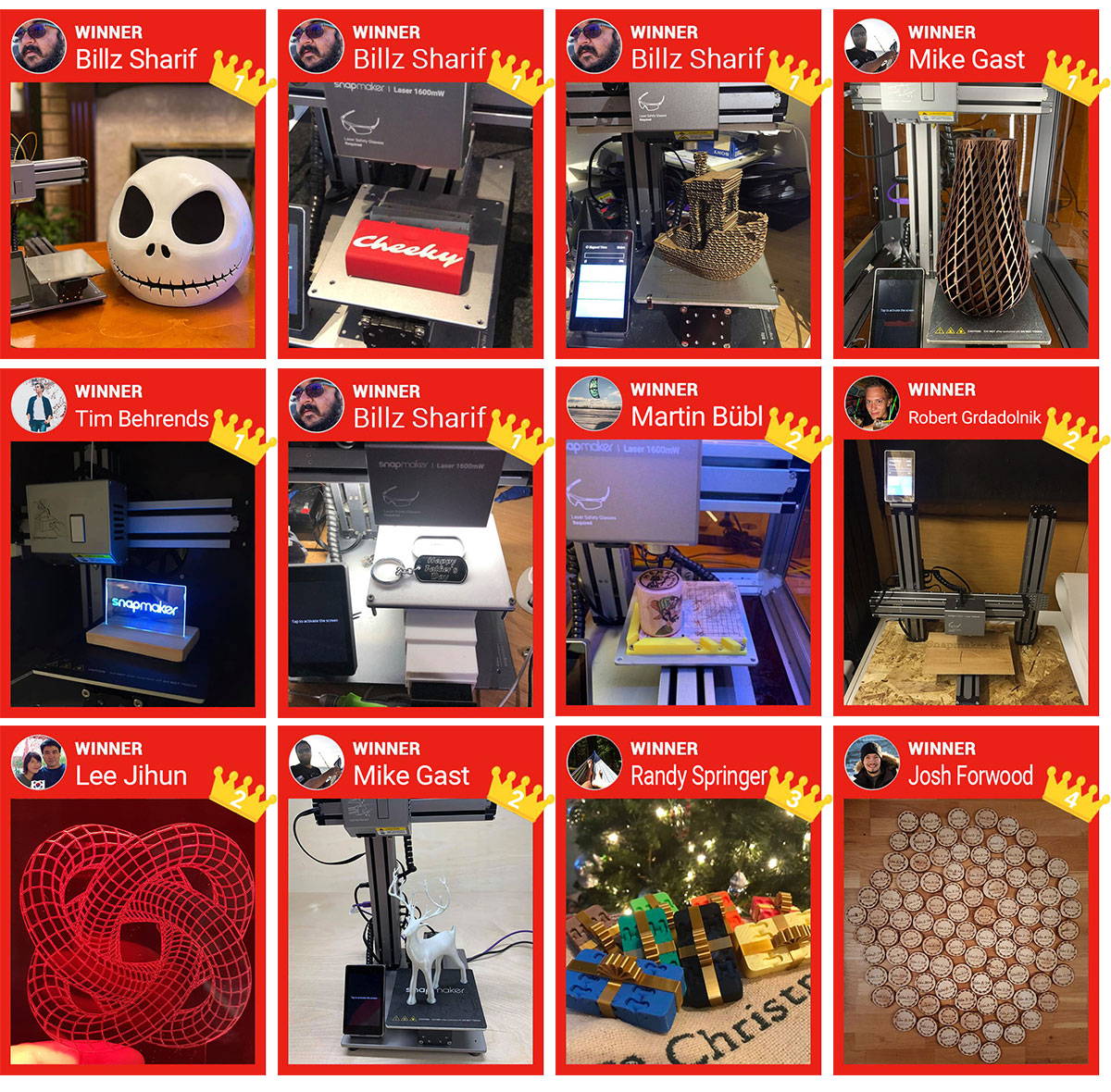 It shouldn't come as a surprise that we are also makers ourselves. Even though our teams were busy throughout last year, that didn't stop us from having fun. We held a makerathon at Snapmaker at the end of August. Within 25 hours, we made 10 artworks including an LCD module compatible with the Snapmaker 2.0, a SnapLapse module, and office work bundles made from CNC carving. We received a lot of exposure when we shared our results on social media and the post about the LCD module received more than 250 likes! We are grateful to our community for their generous support and feedback. In return we are aiming for better communication and transparency down the road in 2020.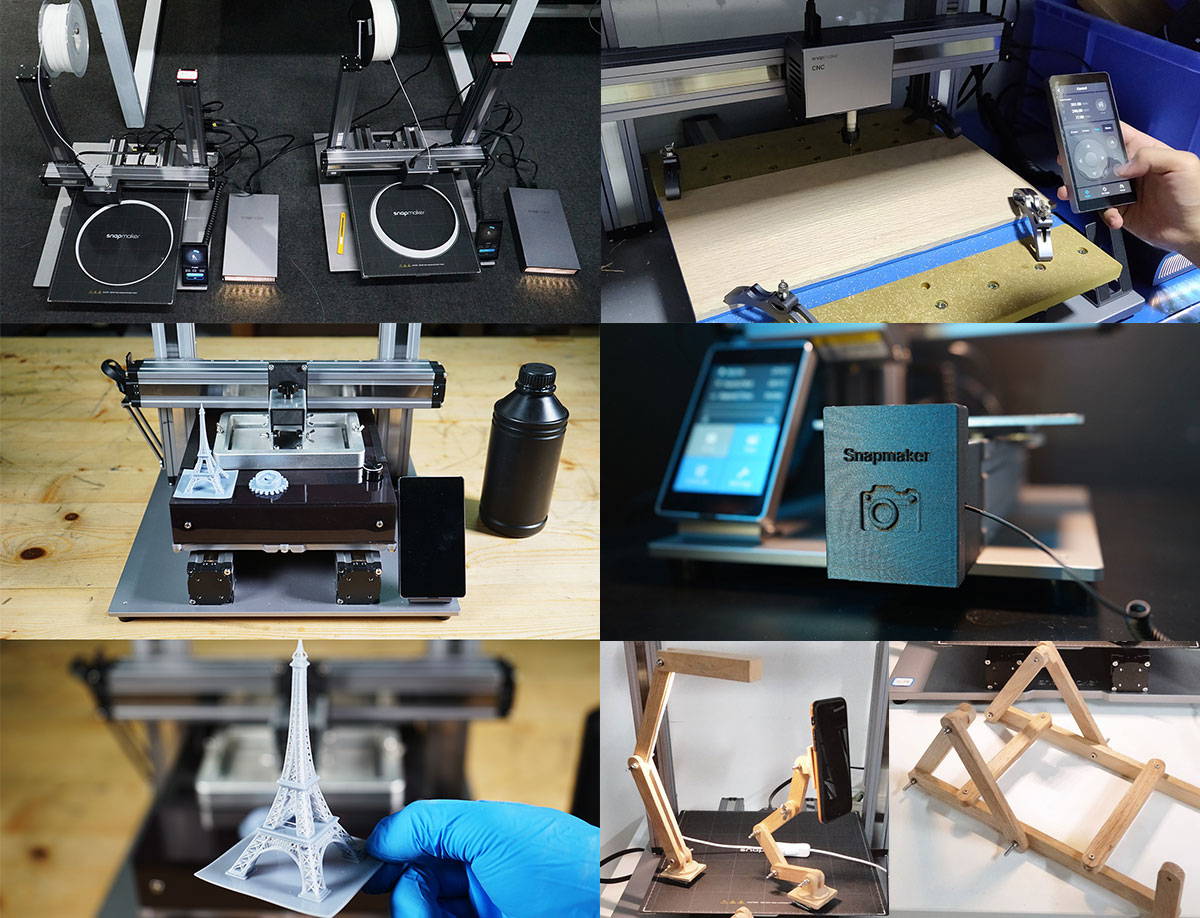 Building a Reseller Network
One of the most important ways for us to interact with local distributors and makers around the world is by attending fairs. We went to 5 expositions last year and introduced our machines to thousands of visitors. We also made connections with almost 200 local distributors. If you want to check out our machines in person before purchasing, don't forget to check the Where to Buy page on our website. There might be a distributor near your place.
During the events, we were overwhelmed by the number of enthusiastic visitors surrounding around our booth. Most visitors showed interest in the 3-in-1 feature and praised our machines as being versatile and high value for money. And speaking of events, Snapmaker is incredibly honored to have received the CES Innovation Award. The newly designed Snapmaker 2.0 was among one of the four 3D printers to win this award out of 6000 competitors. This goes to show that our hard work and design have been acknowledged and we take a lot of pride in our machines!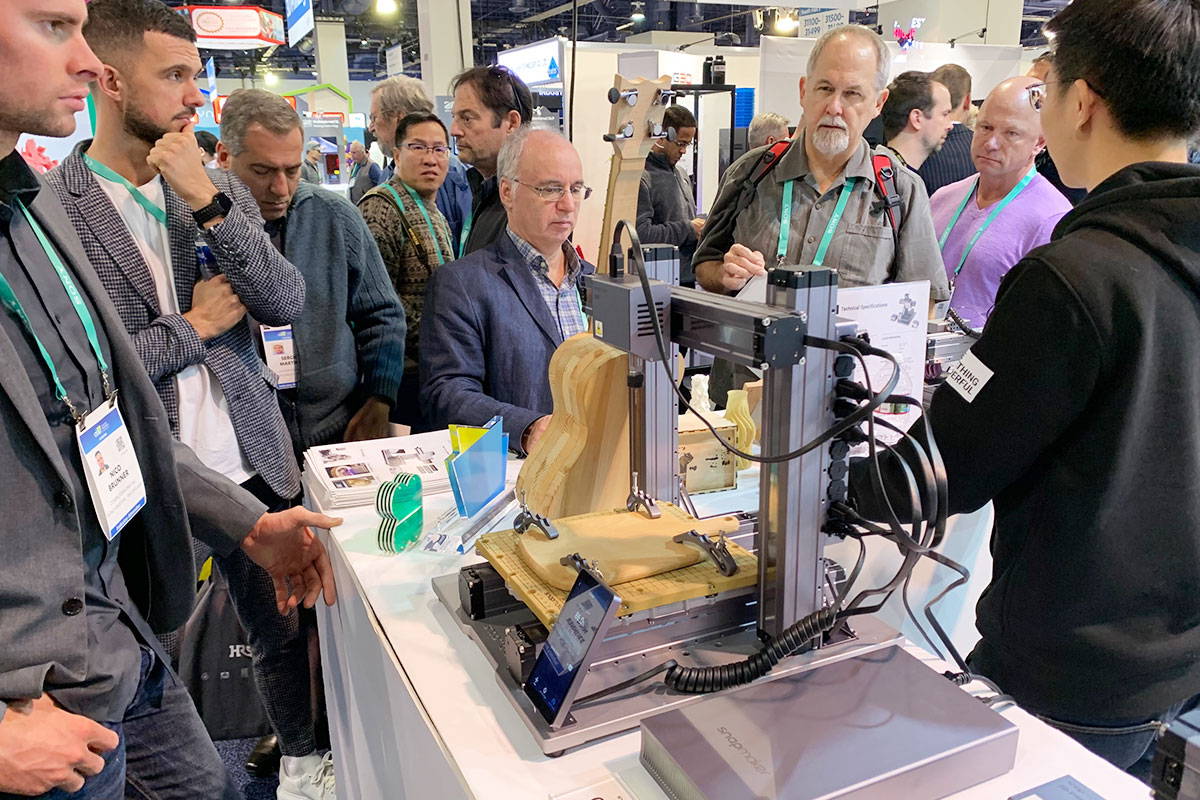 We've also contacted some government officials in the United States, Europe, and Middle East and invited them all to the events we participated in. It was great having them trying out our products in person, and we are happy to announce that Snapmaker is officially part of the STEAM educational program. We hope to contribute more in the future to STEAM Education!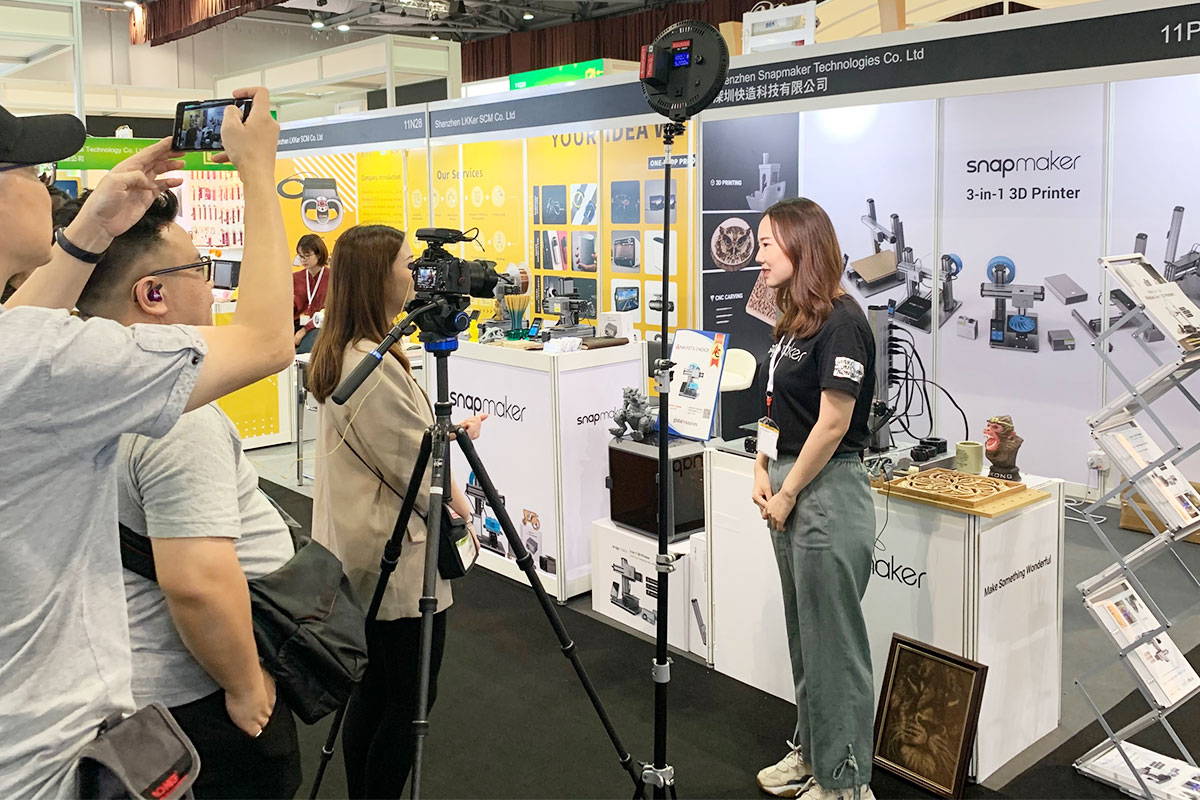 We will be attending more specialized expositions and seminars this year and will show up in educational events to meet local teachers and students. Needless to say, we are always looking forward to meeting you in the next event.
Snapmaker 2.0 started shipping at the end of December last year!
After the Snapmaker 2.0 Kickstarter campaign ended on 6.6.2019, we started shipping out the first batch of the Snapmaker 2.0 Kickstarter rewards in late December 2020, approximately 500 machines in total. In the past 6 months, the Snapmaker 2.0 has gone through the process of small-batch production twice, upgraded design of some module parts, finalization of the packaging design, and uncountable testing on incoming supply and modules. We resolved most of the problems successfully.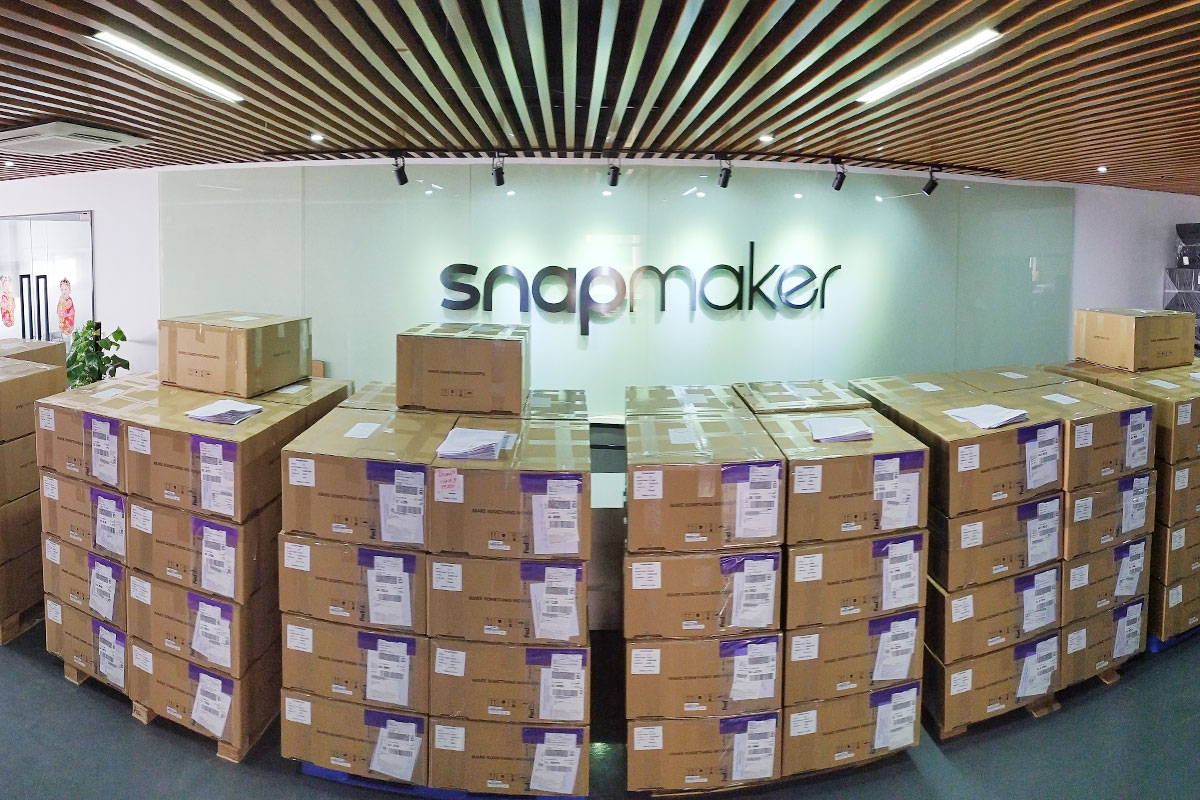 Since January 8th, early bird users started to receive their Snapmaker 2.0. We are incredibly happy that most of the backers were satisfied with the machine being high quality and easy to use. They shared their feedback on social media after putting together their machines and finishing printing their first prints.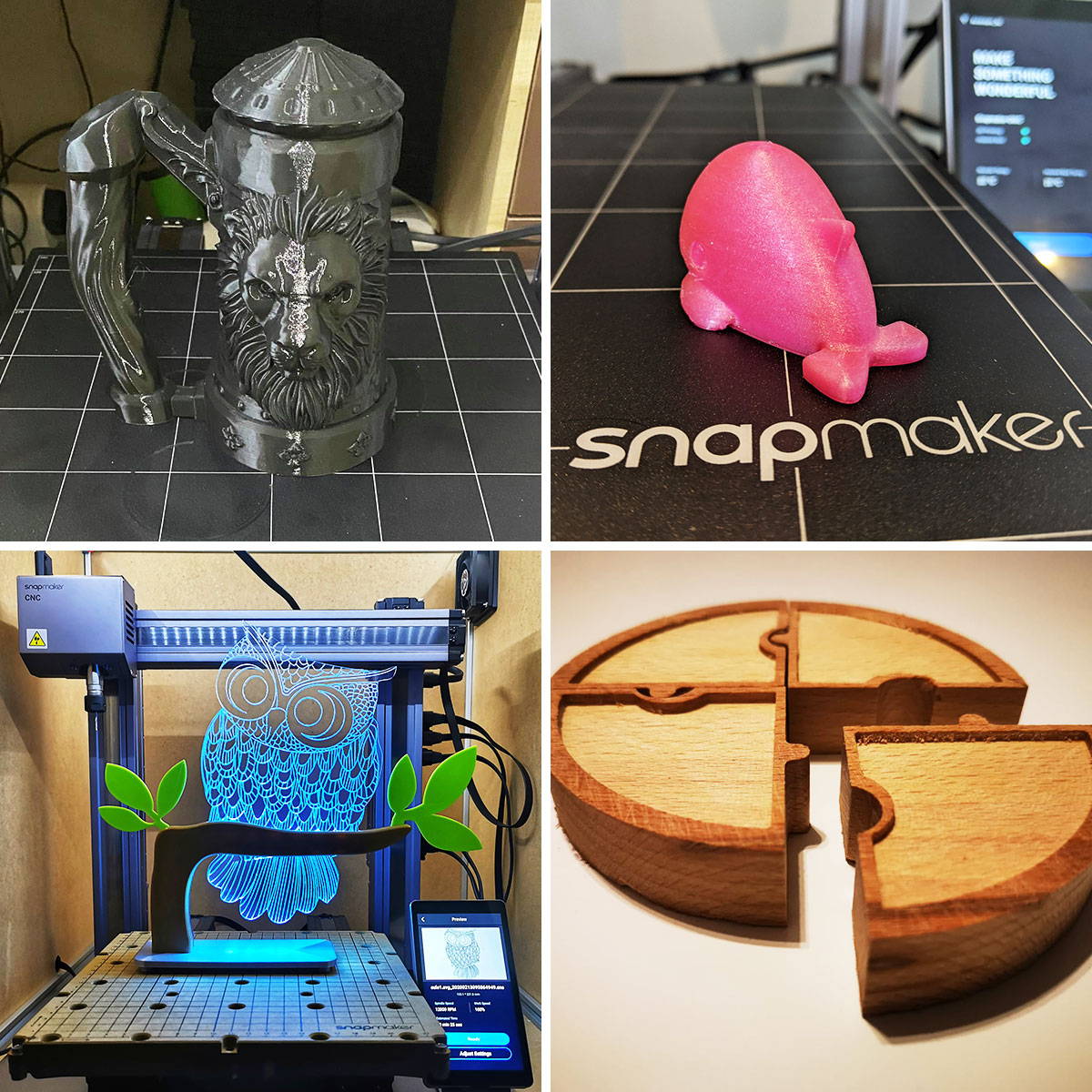 Of course, as with everything, the first batch inevitably has issues. Some of the users had problems the first time they used their machines. Our R&D team is investigating the causes and our customer support team is responding swiftly. Even under the influence of COVID-19 after the Chinese New Year holiday, we maintained a low response time which is under 2 days. After resuming work recently, the R&D and quality assurance departments have been troubleshooting nonstop regarding the product quality, product design and software bugs. We hope to resolve most of the issues before shipping out the next batch.
Plans for 2020
Time flies. We learned and grew a great deal in 2019. Thank you for your support and we wish to continue the journey with you this year. Besides finishing the Snapmaker 2.0 production testing, feature optimization, software development and backer orders, we are going to focus on making addons for the Snapmaker 2.0 this year. After the release and delivery of the enclosure for the Snapmaker 2.0, we will start developing the rotary module, dual-extruder module, high power laser module, and silent linear module. Our software will be open source to allow more users to chime in and to design their own modules for their specific needs and applications.
The year of 2020 has begun, and it is going to be a busy year! We are looking forward to your feedback about the Snapmaker product lines and the possibility of modularity. Lastly, the whole Snapmaker team wishes you a successful and creative year! Oh, and don't forget, let's make something wonderful with Snapmaker!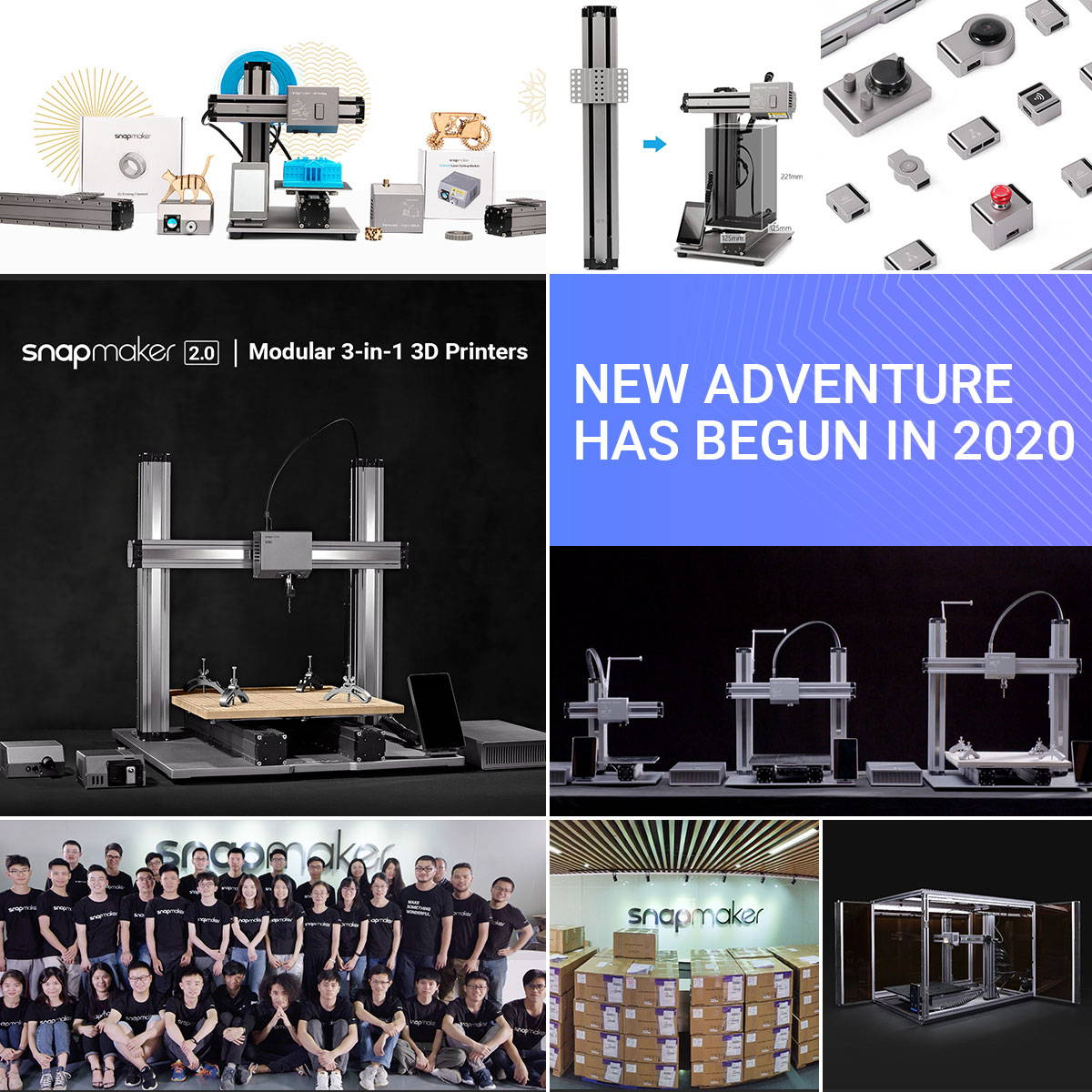 Much love,
The Snapmaker Team