Check out our brilliant creations in Snapmaker Makerathon 2020!
On Oct. 16th-17th, the team of Snapmaker had great fun in the annual internal Snapmaker Makerathon. The staff again came up with various sparkling ideas this year.
Makerathon 2020 – Everything Is Useful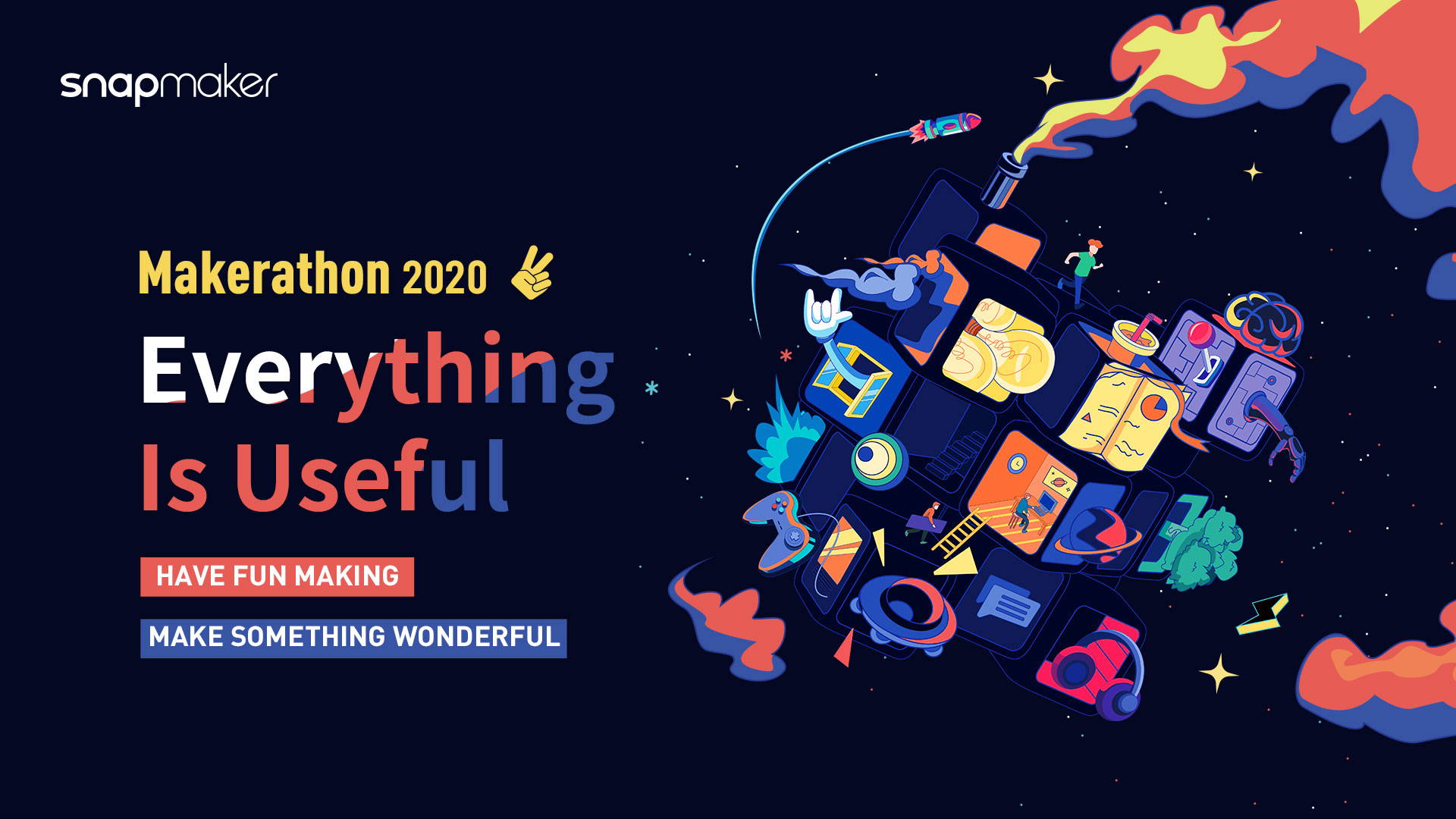 Makerathon is a 24-hour event that aims at pushing the boundaries of creativity. The reason why we launch this event is that we always advocate open and free creation, hoping to keep bringing to the world wonderful works. We believe that everything can be created and creation makes life better.
In line with Shenzhen's waste sorting policy, Snapmaker strives to make its packaging fine and green. Therefore, the theme of this year's Makerathon is Everything Is Useful. As such, the teams brainstormed and recycled things such as packages, modules, PLA filaments and enclosure panels. One or more teams might have declared war on others for recyclable resources.
Besides the theme of the year, there are some other conventional directions for the teams to choose. They can either create new addons for Snapmaker or think of new application for our existing products.
During the 24 hours, the 15 teams worked all night long to turn waste into treasure. Let's have a look at some exciting and inspirational moments.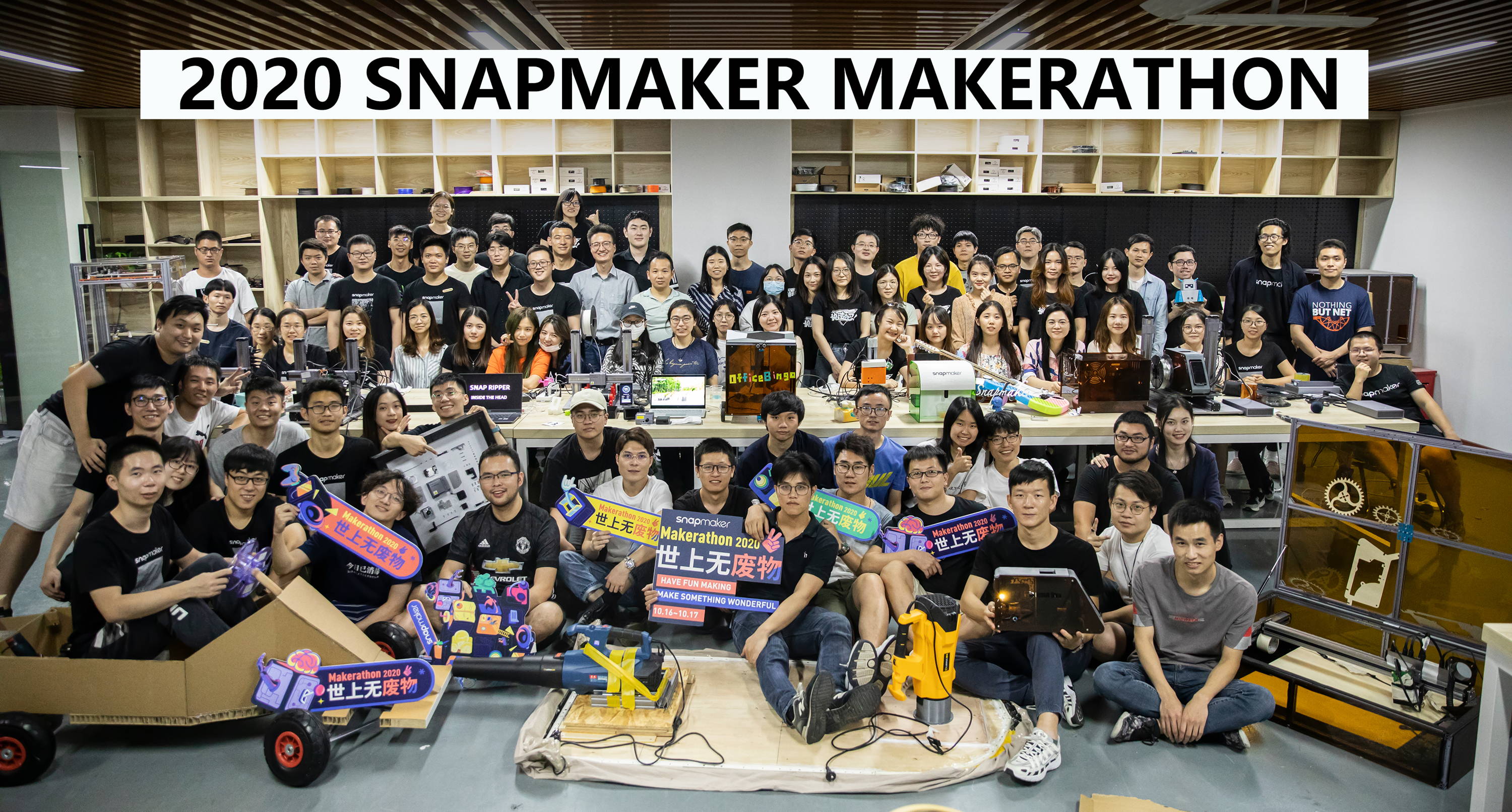 Meet the teams and their works.
At the beginning, each team elected a leader and announced a slogan based on their philosophy of making.
After knuckling down for 24 hours, teams were ready to launch their projects. They presented their work and invited the audience to operate, trying hard to provide immersive experience.
We were totally amazed. See their works below.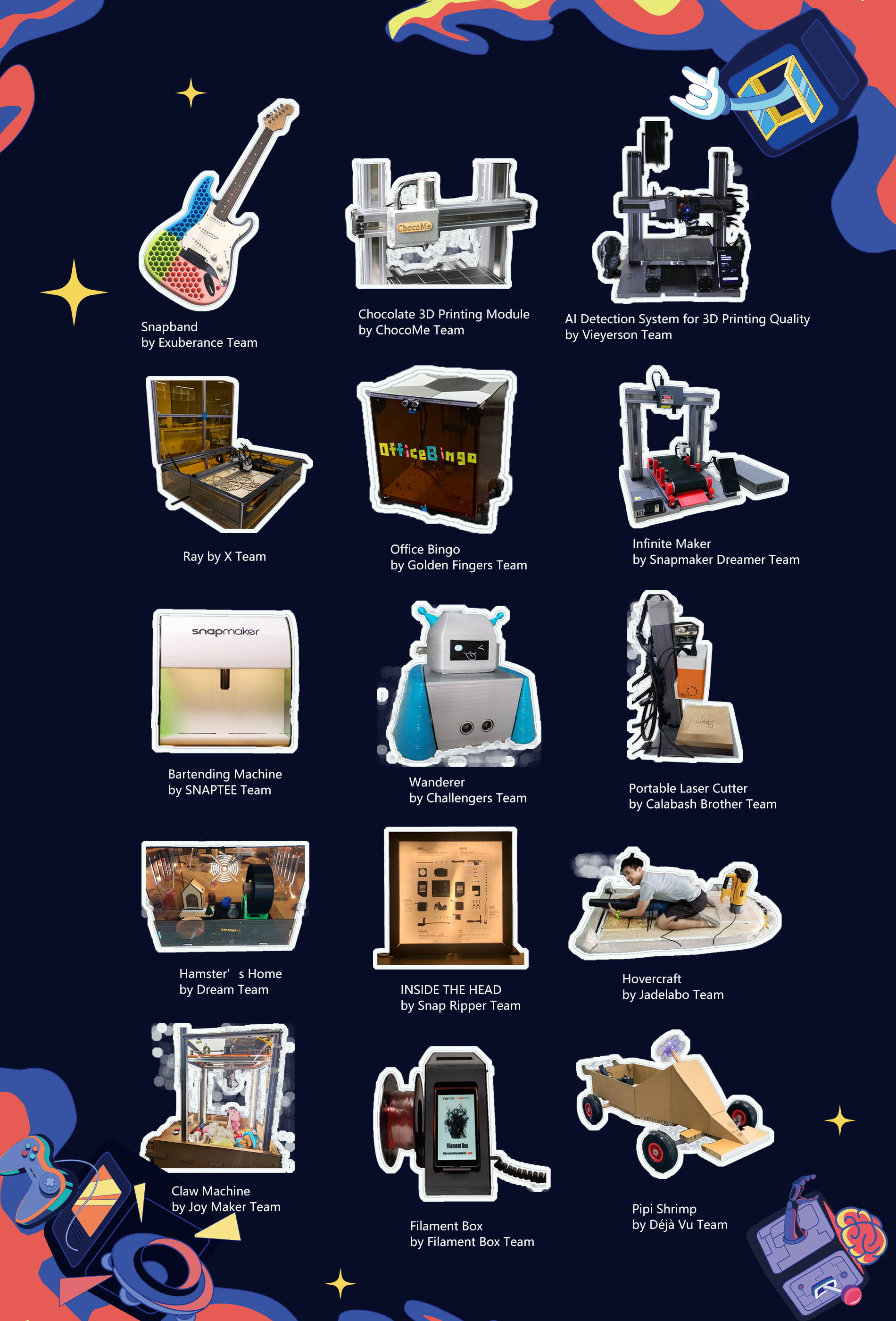 We are proud to announce the prizes.
After the presentation, each of the 100 Snapmakers voted for two works that they found fascinating and were willing to root for, excluding their own project.
The prizes went to the following teams.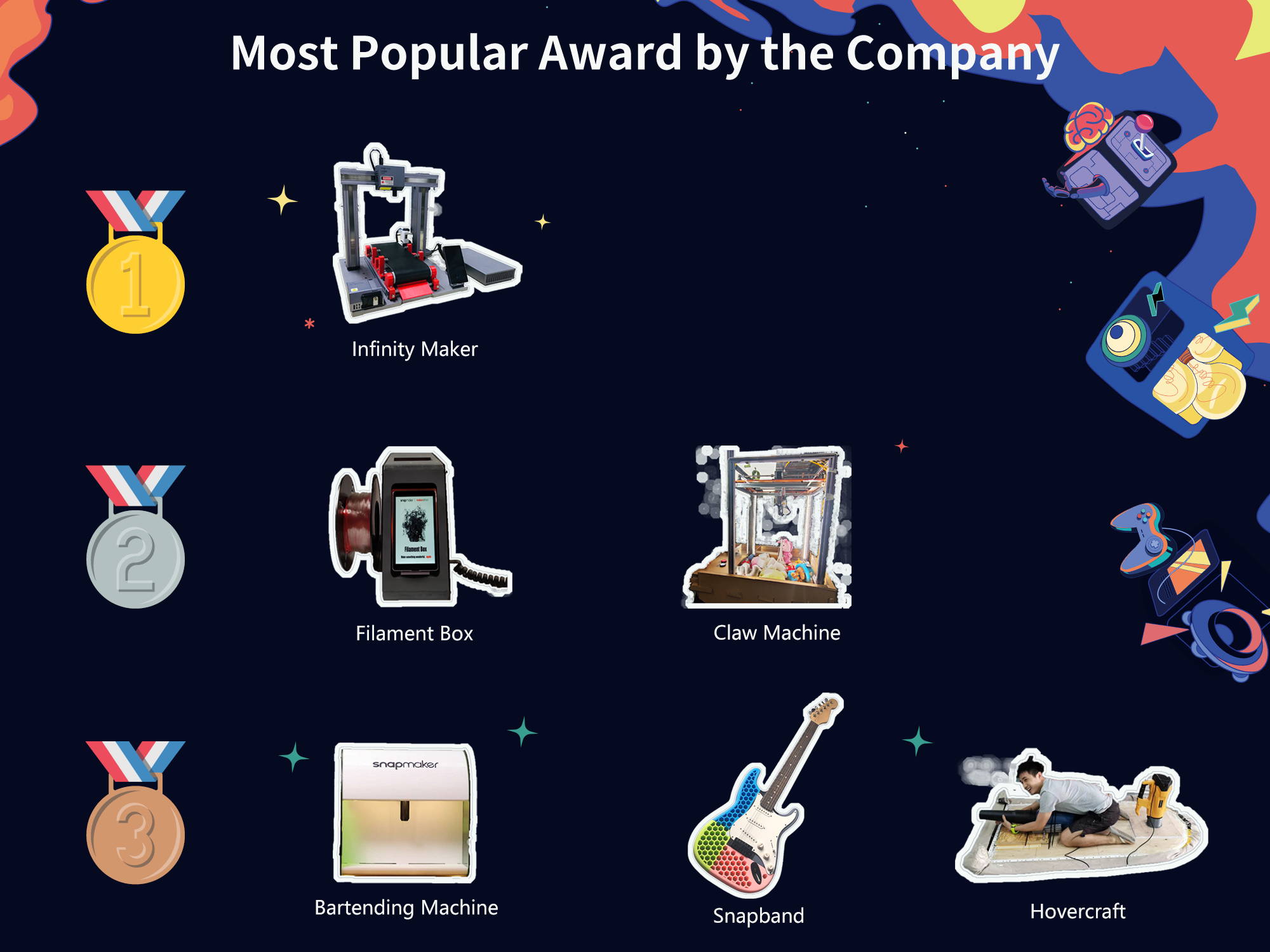 Third Prize
Bartending Machine by SNAPTEE Team
This bartending machine draws and blends liquids from five canisters in the back before dispensing cocktails. It comes with its own software, and your customized drink is only one click away.
Snapband by Exuberance Team
Snapband consists of a 3D printed electric guitar and an electric drum set. The drum kit, with laser cut drumheads and a base made from Snapmaker enclosure panels, is wired up with speakers that play pre-collected E-drum sounds.
Hovercraft by Jadelabo Team
This team make use of an old bed sheet, some garbage bags and a huge plank to build a hovercraft. It's equipped with two strong blowers, one to inflate the cushion and the other as engine.
Second Prize
Filament Box by Filament Box Team
With Filament Box, you don't need to throw away failed prints or supporting materials in 3D printing any more. It recycles these materials under high temperature and shape them into usable filament again.
Claw Machine by Joy Maker Team
This claw machine is made of the frame of Snapmaker 2.0 A350 enclosure, lead screws and motors from linear module, power module and cardboard from packages. You can operate the handle to move the claw as it's connected to the controller of Snapmaker.
First Prize
Infinity Maker by Snapmaker Dreamer Team
By replacing the original Y-axis with a conveyor belt, this team accomplishes batch 3D printing because the prints come down automatically at the end of the belt. It also enables maximum length for laser engraving as the material rolls during the work.
Following the internal vote, we held an online vote in our two Facebook groups. Here are the five teams that won most LIKEs from the users.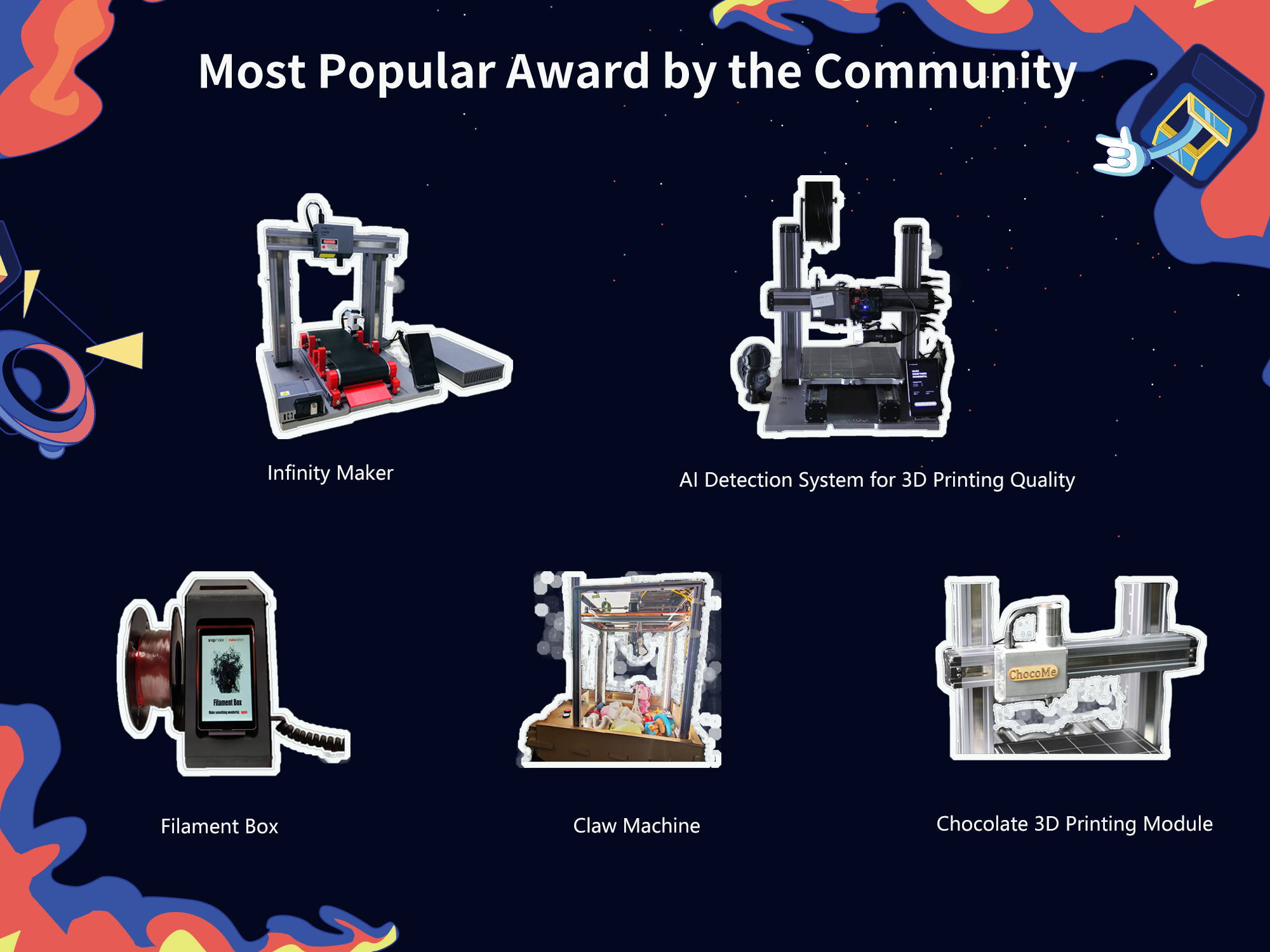 AI Detection System for 3D Printing Quality by Vieyerson Team
This system detects problems such as layer separation, splitting, blobs and lumps in 3D printing through a macro lens. It takes photos of the print and upload them to an AI system to identify if there is a problem.
Chocolate 3D Printing Module by ChocoMe Team
ChocoMe Team create a food grade 3D printing module that uses chocolate as material. They screen out chocolate with high melting point and low freezing point and design a cooling device to freeze the print rapidly.
Filament Box by Filament Box Team
Infinity Maker by Snapmaker Dreamer Team
Claw Machine by Joy Maker Team
Online Makerathon Coming Soon.
After hearing of our internal Makerathon event, you might also want to give it a shot. Follow our social media accounts and we are announcing the schedule of the online Makerathon very soon. You can share your inspiration and compete with Snapmaker users worldwide. Hope you enjoy the event as much as we do.
Much love,
Team Snapmaker