Snapmaker 3-in-1 3D printer empowers Chinese STEAM education
Between October 23 and October 25, 2020, Snapmaker brought the stellar 3-in-1 3D printer Snapmaker 2.0 to the 2020 Chinese Education Equipment Exhibition held in Chongqing, with the theme of "path the way for the future by empowering STEAM education". Visitors were given an opportunity for hands-on experience with the Snapmaker devices and remarkable content, which helped expand the scope of 3D printing in education in China.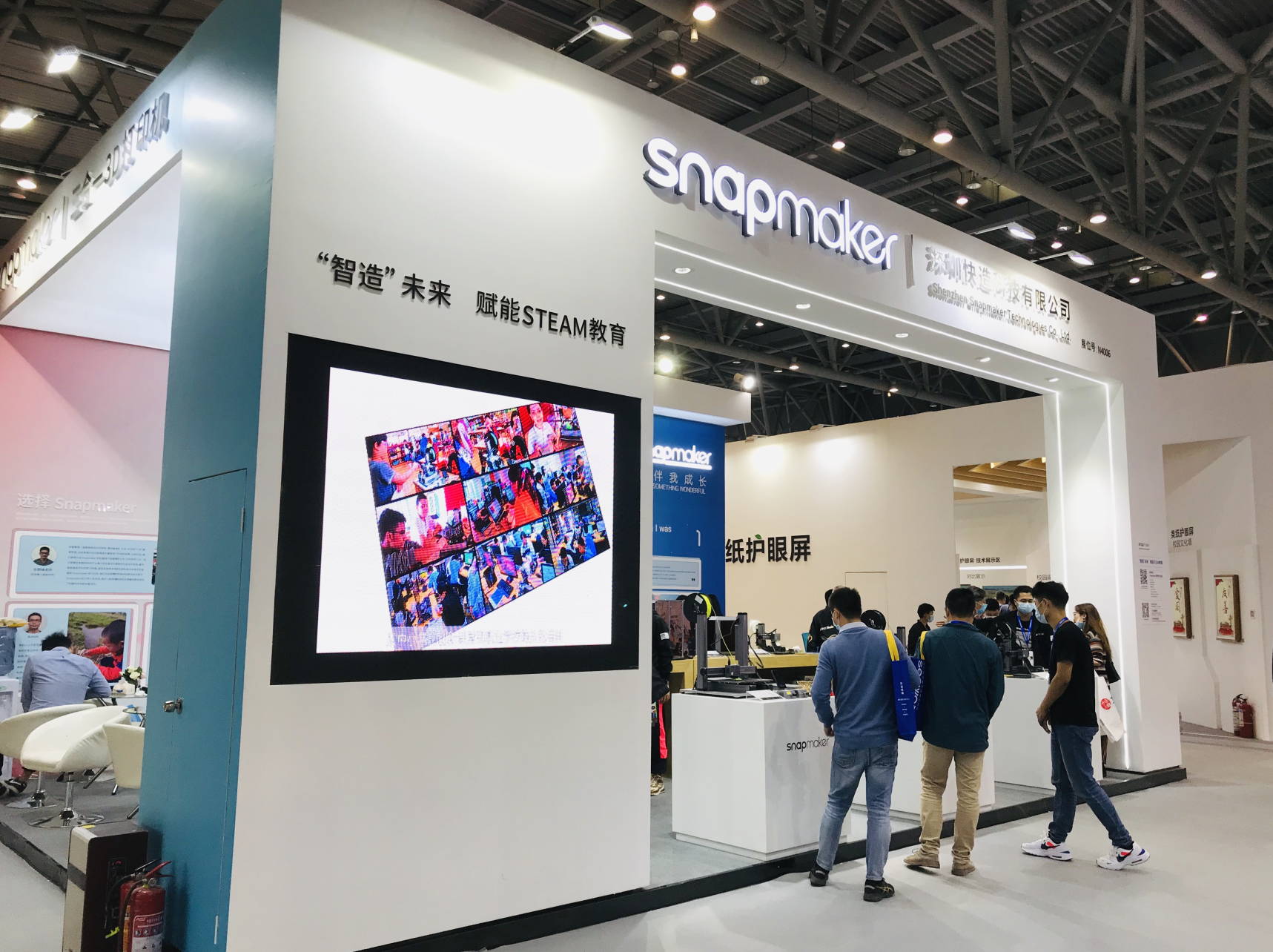 Snapmaker 3-in-1 3D printer is built with modularity at its core, combining 3D printing, laser engraving and CNC carving functionalities in one and allowing immense expandability. The Snapmaker 2.0 devices has earned the titles of 2020 CES Innovation Award and The Most Funded Technology Project on Kickstarter.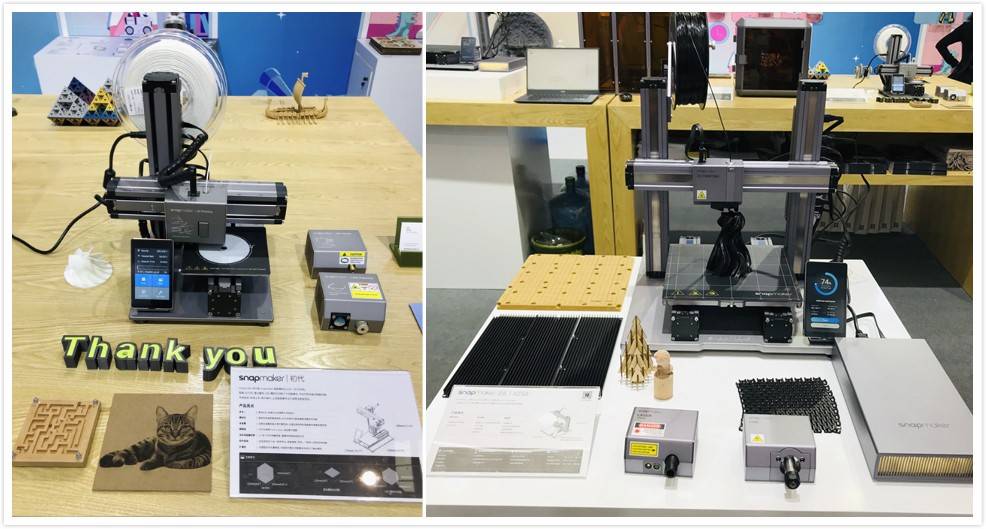 Besides the product showcase, Snapmaker also set up an interactive area. Starting from child development, elementary education, to higher education and separating the three phases to tell the stories of how Snapmaker helps children in their learning and achieving their dreams. From helping kids form their vision, expanding their horizon, to helping them a step closer to travel to the outer space, Snapmaker has shown the world the use of 3D printing in educational settings.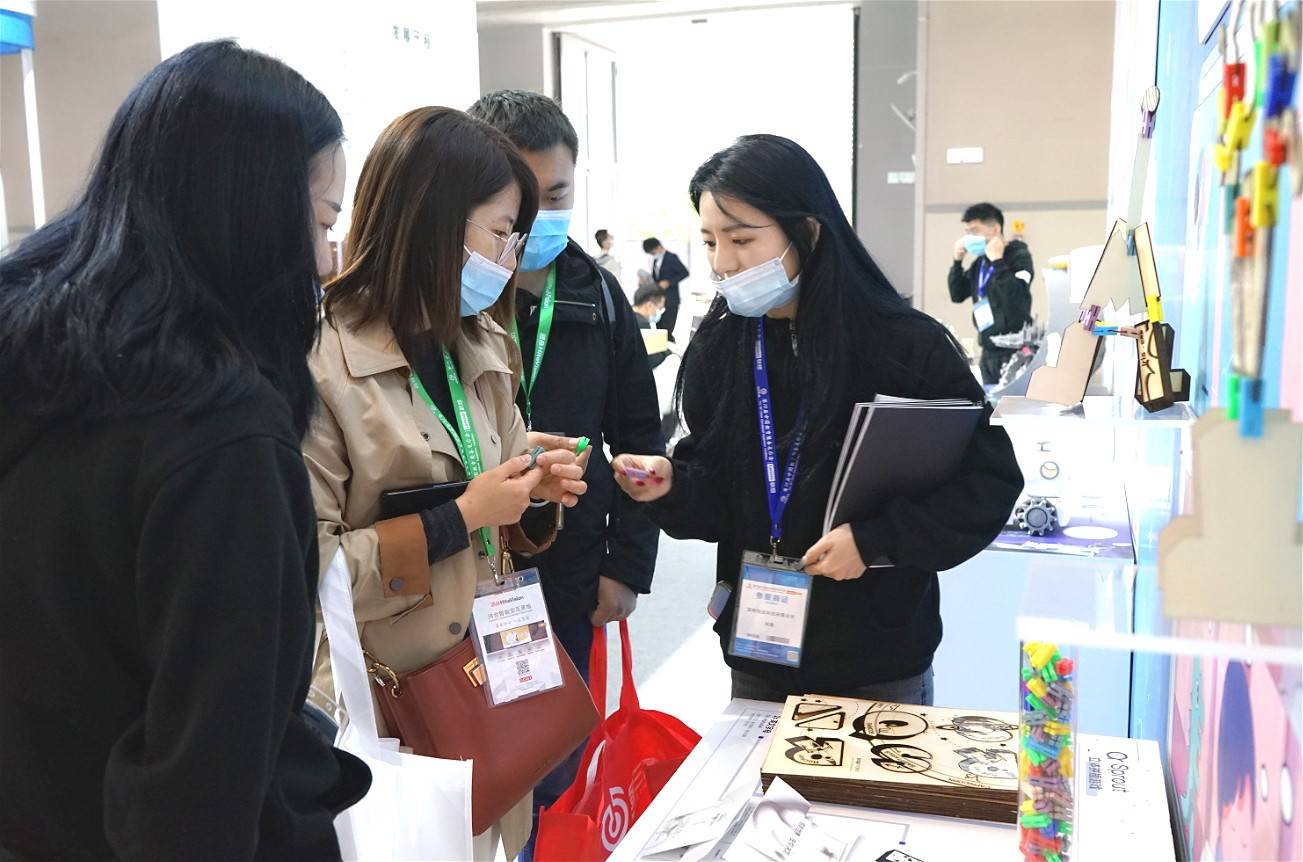 1. Hands-on Area for Kids: empower dreams and creativity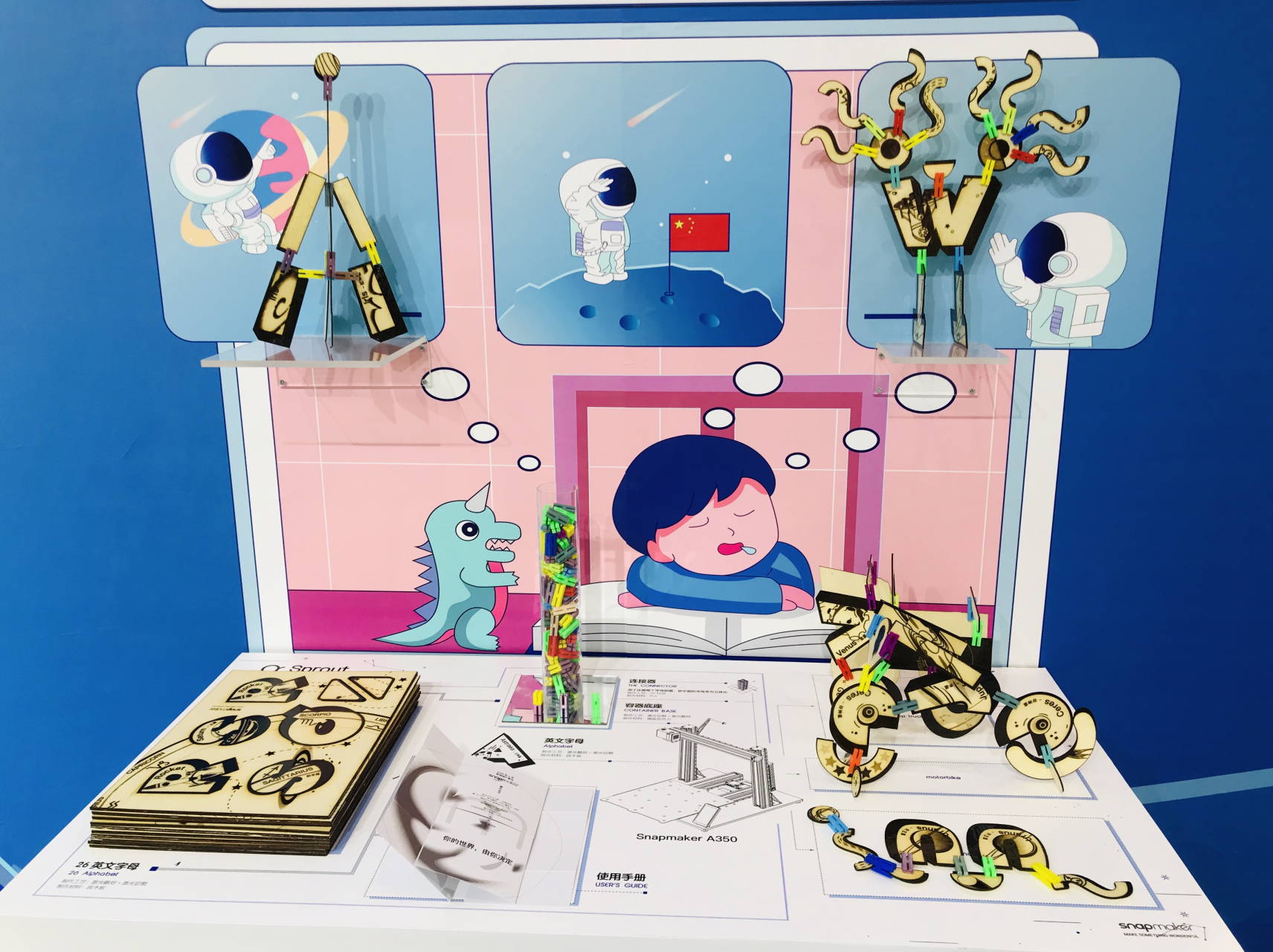 The Snapmaker's laser engraved alphabet game is meant to entertain kids while teaching them how to read. It has great expandability and the letters can be put together to form various shapes. Each letter is similar to a building block and you can build real things out of different shapes of letters. This would help with kids' imagination and creativity. We start our journeys in life and in our dreams by learning the world, and learning the universe first.
2. Experimenting area for teenagers: raise awareness for independent thinking and tinkering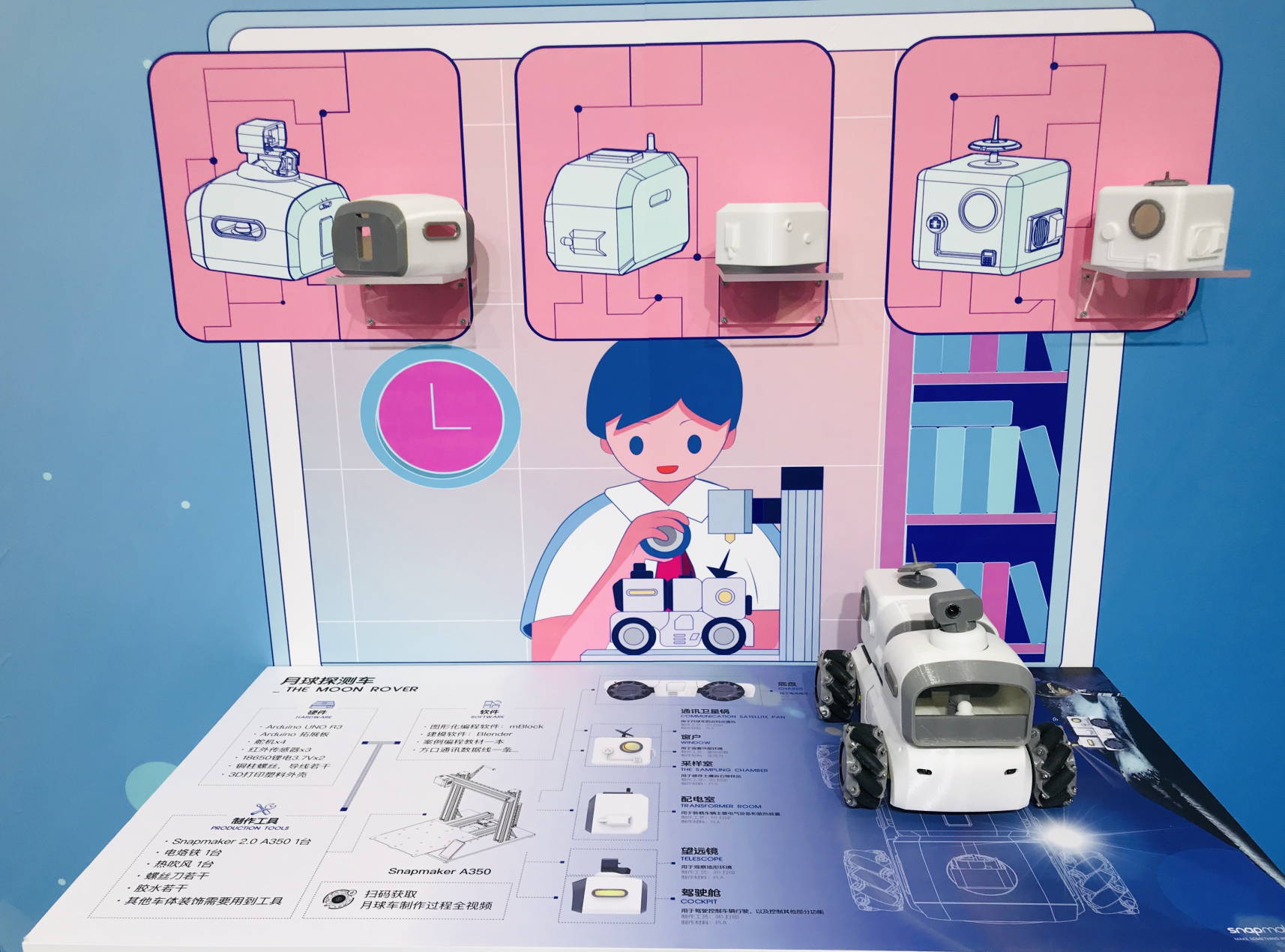 The lunar rover that is 3D printed with the Snapmaker devices embodies the power of Snapmaker 3D printing. Going from zero to one and making something from the ground up, children can be taught not how to think, but rather think independently. This helps shapes the future of their "space dream".
3. Realizing area: help build the connection between reality and imagination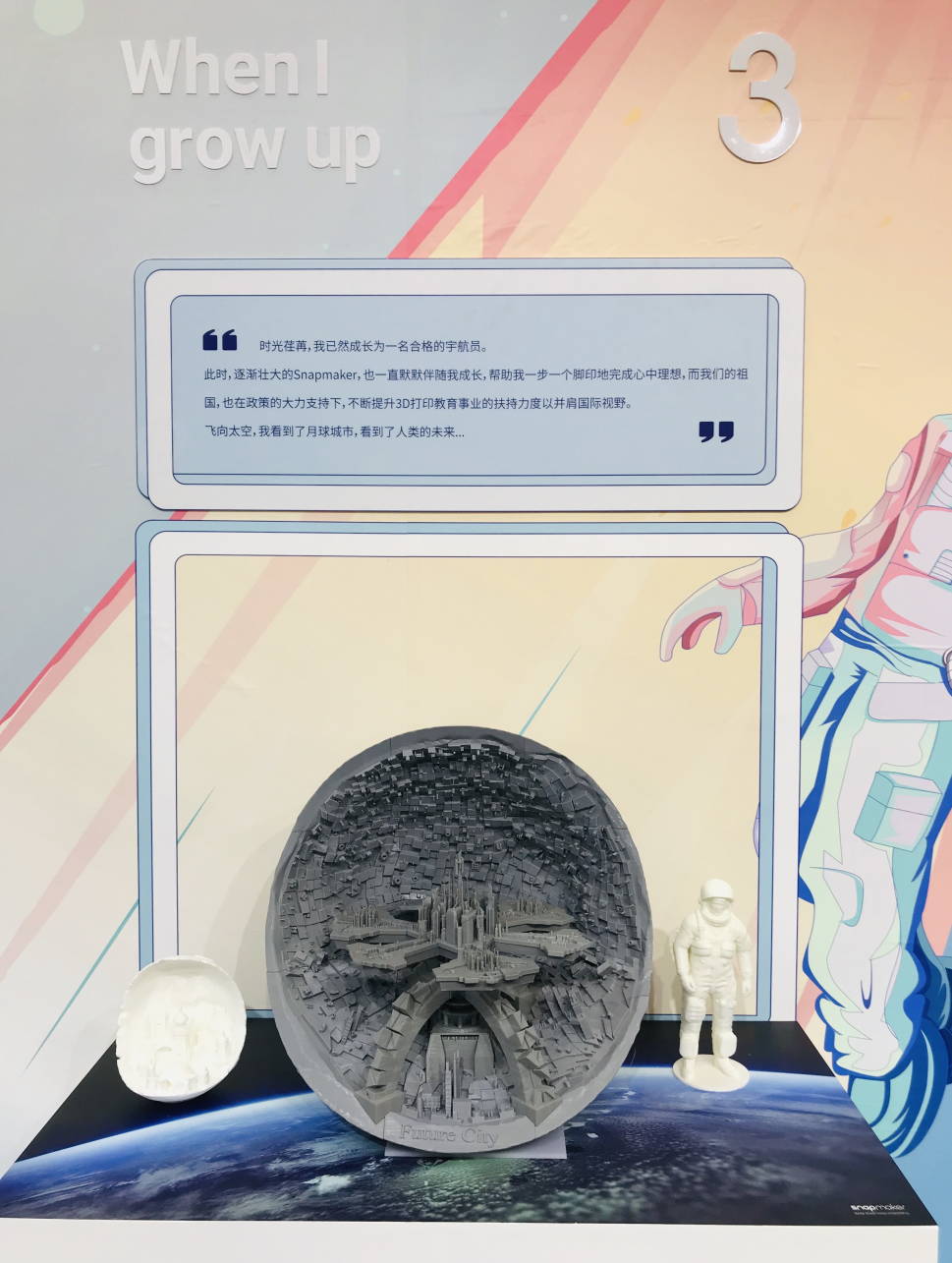 This spectacular 3D printed "moon city" tells the story of mankind setting foot on the unknown universe. It serves as a symbol to expand our horizons and determination for discovering the impossible. Snapmaker is aiming to shape an innovative and exciting future of reality and imagination for everyone.
In this exhibition, Snapmaker has greeted over a thousand visitors, including staff from the educational field, school principals, teachers, members in education institutions, education integrators, and show exhibitors.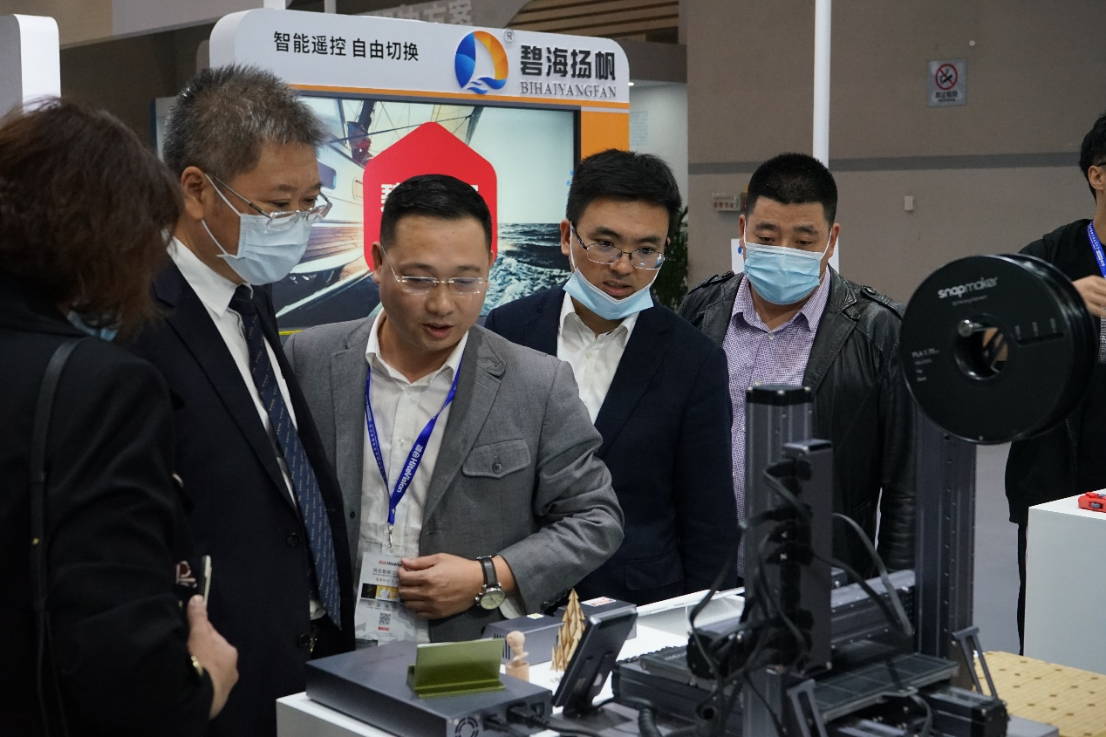 Many of the fans came to Snapmaker's booth to show support, and there were many new visitors that were attracted by the style and make of Snapmaker products. The Snapmaker employees were there to help explaining the ins and outs of the technologies behind their products. This year was the first year that the education committee in China has ever introduced "STEAM Education", and it also marks the fifth year of "Maker Education". Even though 3D printing has made its way into elementary to middle schools, the overall prevalence of 3D printing is still rather low. As one of an active members of 3D printing manufacturers, Snapmaker still has a lot of room for development.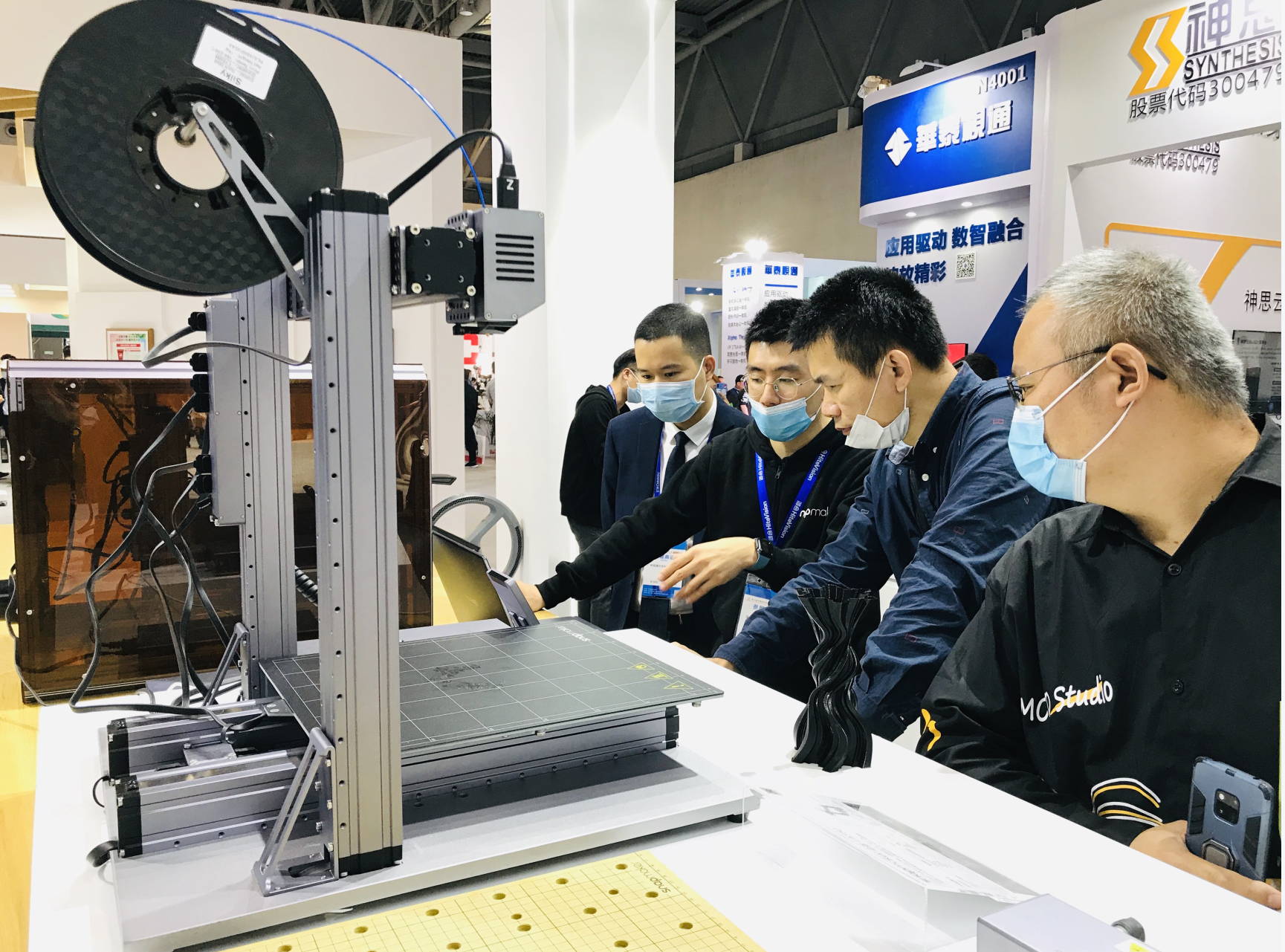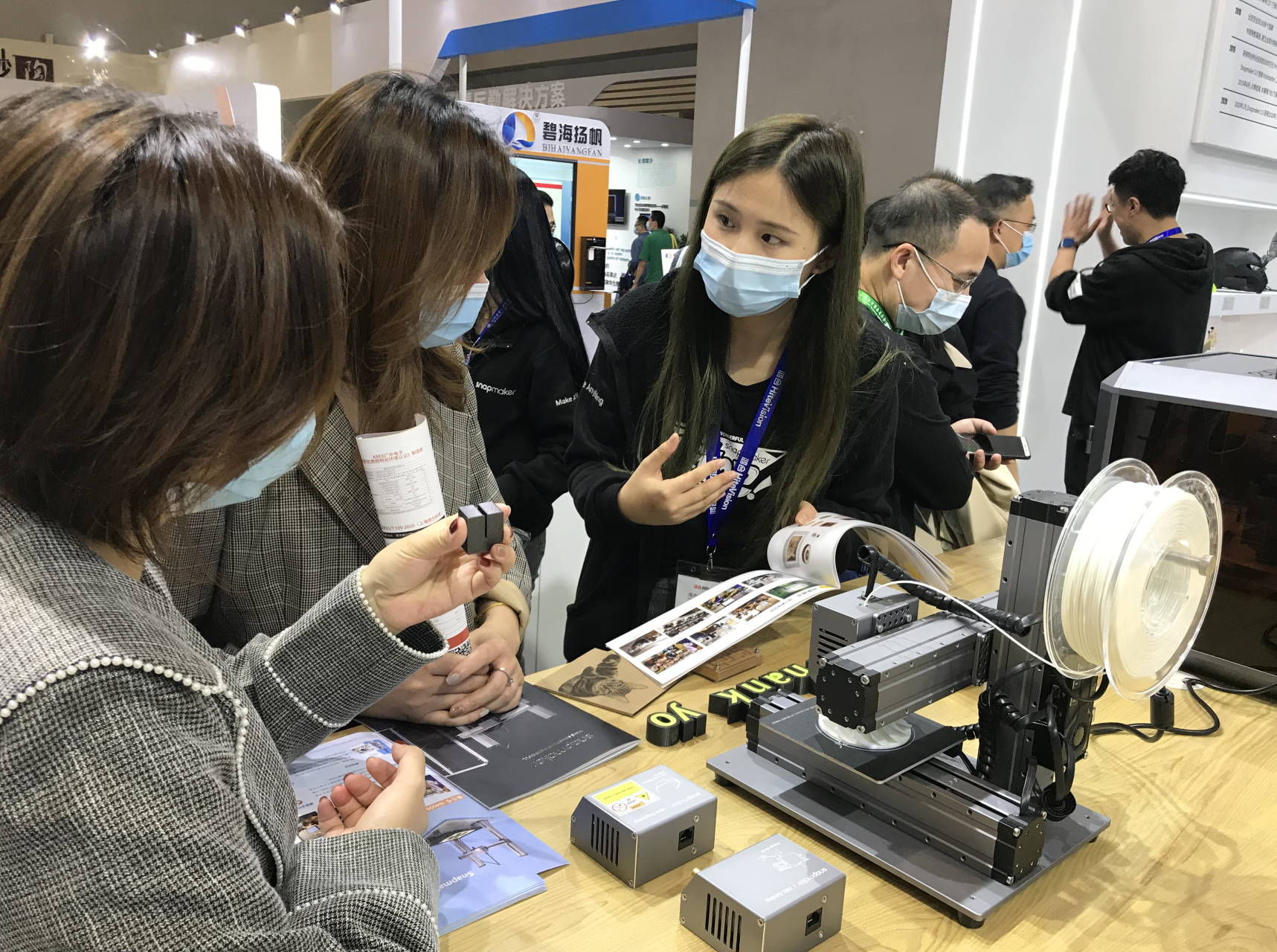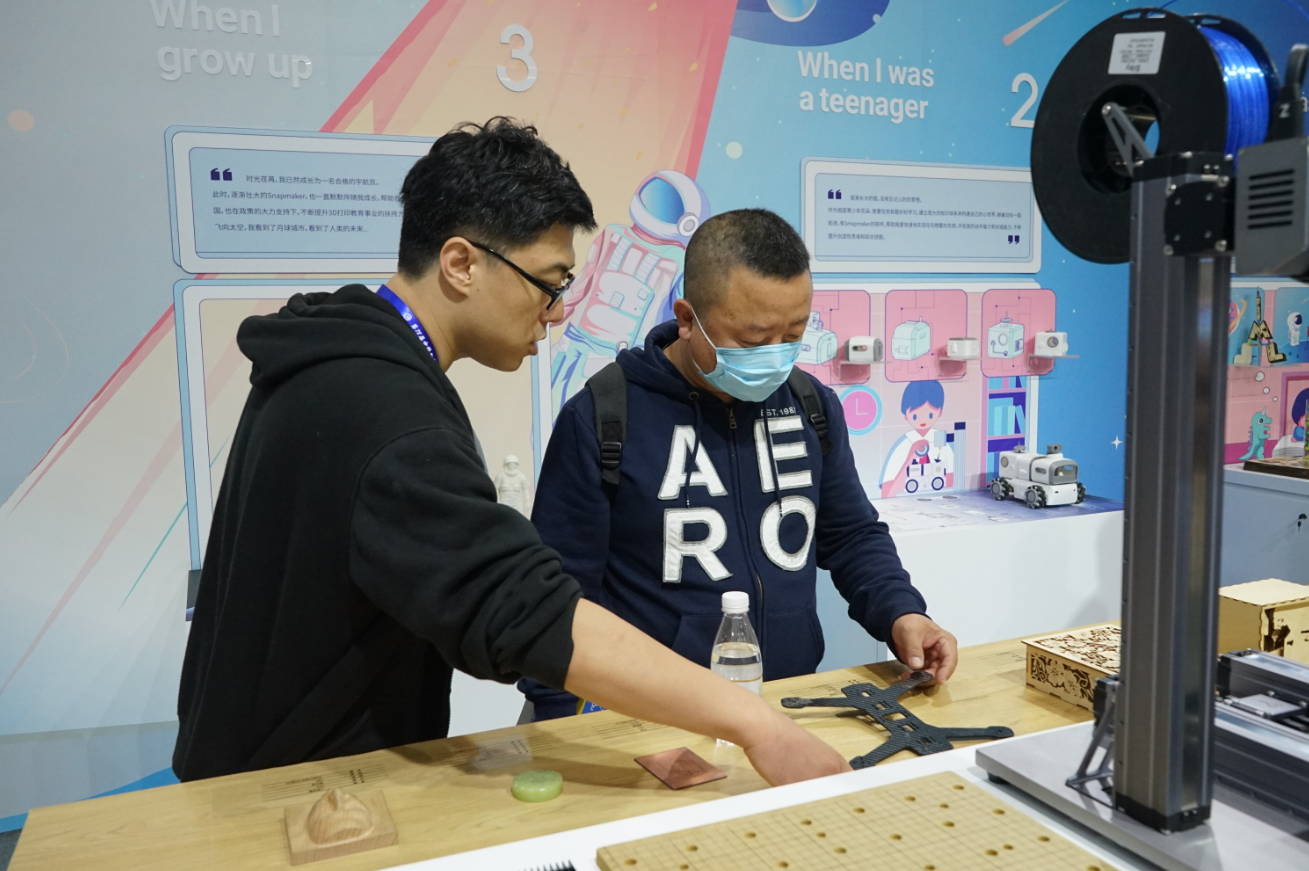 Currently there aren't many choices for a device that is capable of 3D printing, laser engraving/cutting, and CNC carving/cutting, and most people working in the field of education care about the functionality, reliability, quality, related services, and educational value of a device. The Snapmaker devices are all-metal, modular, and 3-in-1 and have therefore earned a special place in the Chinese education community.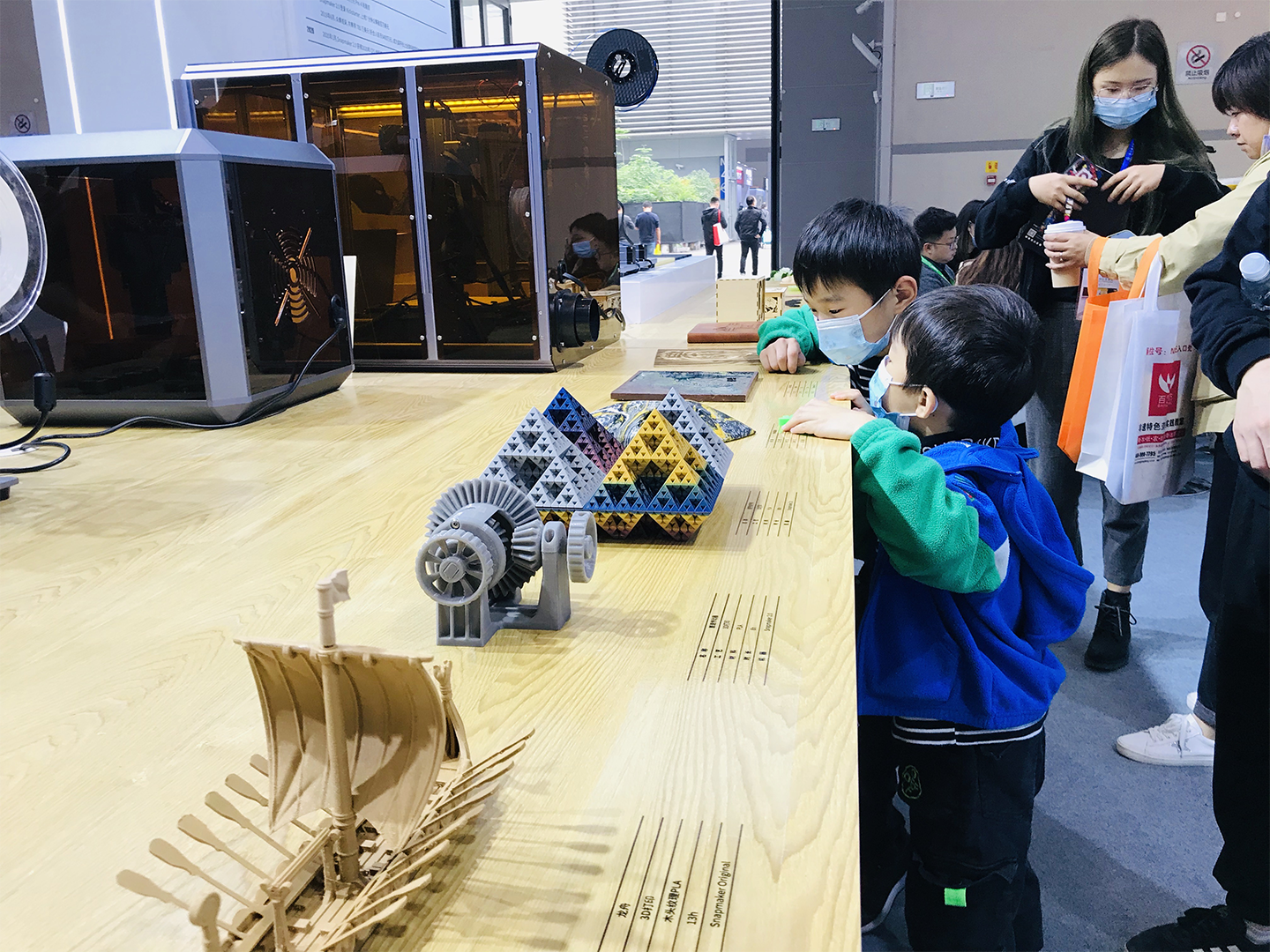 As one of the most successful projects overseas, Snapmaker also pays great attention to education and aims to play a role in the 2020 Chinese Education Equipment Exhibition. We have devoted ourselves to the making community nationwide by cooperating with Beijing Graphite Institute, Beijing Institute of Technology, Tsinghua University School of Economics and Management, Xi'an Jiaotong University, Tianjin University, Nanjing University, SPACEnter Space Science and Technology Institute, Tongji University, Fablab O, Xiamen Univeristy Robocon Team, SUSTech, Dongguan Maker Education Association, ShanghaiTech University Student Innovation Center, Jinjiang Experimental Elementary School, and Shenzhen Second Senior High School. We have built a strong foundation of educational cases for primary, secondary and higher education.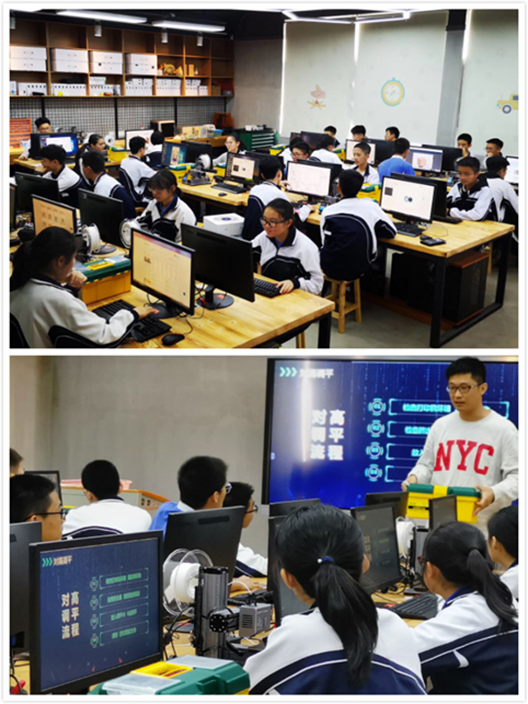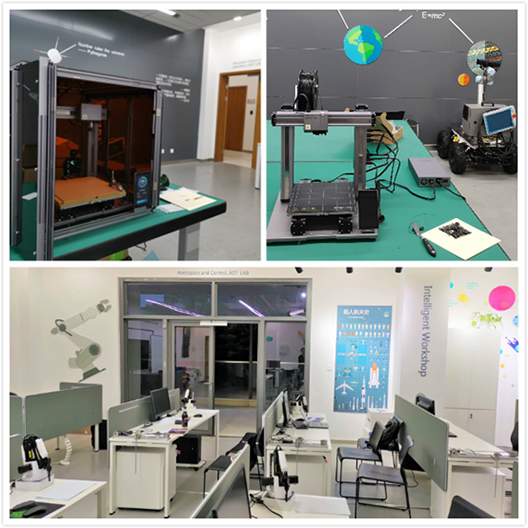 From a crowd funding project to an internationally well-known brand, a personal workshop to classrooms, from "high tech" Shenzhen to "Cultural" Chongqing, our every step shows our determination for technological advances and exploration. In the future, Snapmaker is going to continue to push forward 3D printing in the educational field, strengthen the connection with our clients, and actively search opportunities with other educational brands. We are part of the STEAM education and we will continue to strive to bring more innovation to the field.